Stella McCartney Kids Is Now Available!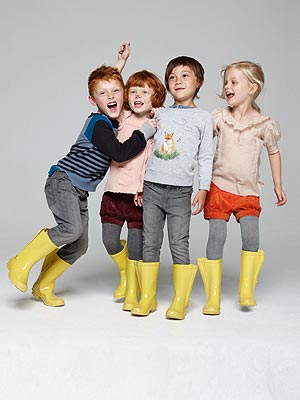 Courtesy Stella McCartney
Ever since they gave us a sneak peek a few weeks ago, we've been anxiously awaiting the day when we could get our hands on Stella McCartney's adorable kids collection.
Well, that day has finally arrived!
The designer's fun, modern fashions for boys and girls are now available in stores and online at StellaMcCartneyKids.com.
And not only are they super cute (loads of styles have been adapted from the main line), but they also reflect McCartney's ethical values — tops and bottoms are made with organic or sustainable fabrics.
"I wanted this first collection to include basic pieces that are comfortable and that address a child's needs, without sacrificing the fun and carefree elements," shared the soon-to-be mom-of-four.
Standouts include the wool Lee Band Jacket ($145), the floral-print Lydia Blouse ($68) and the cashmere/wool blend Ash Jumpsuit ($88).
Added bonus: A percentage of online sales of the the organic cotton Leo Sweatshirt ($36) will help benefit dad Paul McCartney's organization, Meat Free Monday.
While you shop the e-boutique, make sure to check out the fun interactive games in the Playground section. You and your tot can download fun wallpapers, read a featured fairy tale or listen to a lullaby.
You can also download the designer's iPhone app, which allows you to browse the collection through the online store and includes a cool drawing game.
Can't get enough? Check out the cute "Available Now" video below.