Samantha Harris: Josselyn Is a Mini Mommy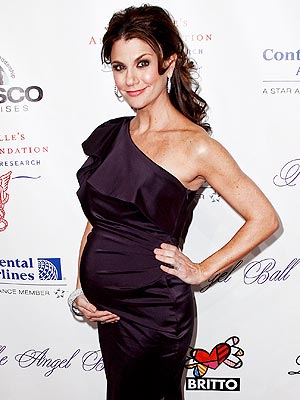 B. Ach/INF
When she welcomes her second child in January, Samantha Harris will probably need some extra help.
Luckily, the Entertainment Tonight correspondent's 3-year-old, Josselyn Sydney, is ready to step up to the plate.
"Most of the time, my daughter is excited about being a big sister. She wants to teach the baby good manners and how to read and sing. What she wants to teach is different every day. She's sort of a mini mommy," Harris, 36, told PEOPLE at Denise Rich's Angel Ball to benefit cancer research in New York.

"We had friends over for dinner who had a newborn and she was rocking the baby, singing lullabies to her by the end of the night. That gave me hope that she'd be a good big sister."
Josselyn even understands the pregnancy process — in an age-appropriate way.
"She gets that mommy has a baby in her tummy and [my stomach will] get bigger and bigger and bigger, [then the baby] will say, 'Knock knock knock. I'm ready to come out!' That's how I explained how she came to be as well," notes Harris.
"She'll put her mouth right up to my tummy and say, 'Hi baby, this is your big sister,' or she'll run by me and quickly lift up my shirt, kiss my belly and keep running."
The former Dancing With the Stars co-host explained that she and husband Michael Hess are again waiting to find out the sex of the baby.
"We're going to be surprised — which is what we did the first time around. It was such a delight in the delivery room and I'm very excited."
And despite balancing work and bouts of exhaustion, she says her pregnancy is going well. "I feel — thankfully — very good. My energy wanes, but that's a given. That's the worst thing I complain of during this pregnancy, but I am by far a very lucky lady."
— Carlos Greer