Review: Mountain Buggy Duo Stroller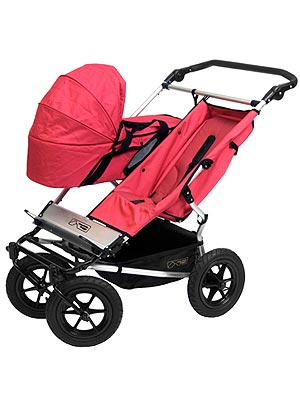 Courtesy Mountain Buggy
When parents go looking for a double stroller that's a breeze to push and easy to fit through doorways, there really aren't a lot of options … which is why we love the Mountain Buggy Duo ($680) so much.
Things We Like:
Although the Duo is sleek, it fills every need of a family looking for a double. At 29 inches wide, it will fit through any standard doorway.
It's also super versatile. The seats and canopies function separately from one another.
And the recline option is seat-specific which means no arguing about who wants to lie down and who doesn't.
We love the single carrycot accessory ($160) because it's easy to use and perfect for a family with a new baby. It can also hold a combined weight of up to 110 lbs.
The Duo also has a locking wheel, amazing air-filled tires that can handle any terrain gracefully and rear suspension, which means it's also a perfect jogging stroller, too.
And speaking of the canopies, they're huge (but not intrusive at all) and even offer a bonus 8 inches of sun protection when the flick-out mesh sun visors are extended. And they don't get in the way of even an older child — we tested a 5-year-old in it and he was as comfortable under the canopies as a toddler was.
The fold is easy and quick. It's a two-handed fold, but it's very user-friendly. Just fold in the handlebar, lift the latches on either side of the stroller, and it practically folds itself. Now, it's not so compact when folded up, but there is a stand-alone option, which is handy for storing the stroller.
The Duo's storage space is also amazing. With a big basket and multiple mesh pockets, it's easy to keep all your baby essentials organized. There's even a little water-bottle holder on the handle for mom.
Things We Didn't Like:
There's not much to dislike about this stroller. But if we're being picky, there are a few things we'd change. First, the seat recline is a bit tricky (fabric can bunch up inside the stroller when the seat comes up from the recline position).
Next, the stroller is big when folded. No bigger than most other doubles out there, granted, but it's difficult to store or cart around in a car. It's not a stroller for a family with very little car or storage space.
And finally, it would be nice if Mountain Buggy would include an air pump, since it's an inexpensive optional accessory, yet it's something that's necessary for stroller maintenance.
Moms & Babies Rating:
From infant twins riding next to each other in a shared carrycot to two older children fitting comfortably while riding side by side, this stroller can handle any two-kid combination with ease. We definitely give the Duo a thumbs up.
— Stephanie Phoenix