Kendra Wilkinson: I Want Baby No. 2 to Be 'Like a Shiloh'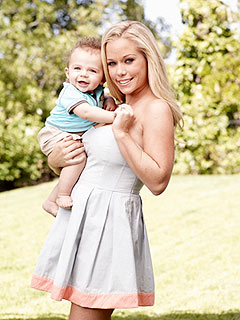 Justin Stephens
Kendra Wilkinson isn't even pregnant with her second child yet, but she already has the ideal sibling in mind for her 10-month-old son Hank IV.
"We're definitely excited for baby number two," Wilkinson, 25, tells PEOPLE about her hopes for having a little girl.
"She's going to be like a Shiloh. She's going to be a tomboy. She's going to be out there rolling around in the dirt."
But Wilkinson's hubby Hank Baskett prefers a girly girl to Angelina Jolie and Brad Pitt's 4-year-old daughter's style. "He wants a little princess," Wilkinson explained. "He's like, 'She's going to be my little princess.'"

Motherhood has changed the way Wilkinson views herself.
"This is the only time in my entire life that I can actually look in the mirror and say that I'm proud of myself," she says. "I'm so f—in proud of myself because I'm taking the time to be a mom."
Adds Wilkinson, "I take so much time being a mom. When I make Hank's breakfast, I'm already thinking about his lunch. When I'm feeding him lunch, I'm already thinking about his dinner. It's preparing for everything and loving him, and spending the time."
— Dahvi Shira