Marissa Jaret Winokur's Blog: What Balancing Act?!
Meet our newest celebrity blogger, Marissa Jaret Winokur! The actress, who co-hosts the new CBS daytime chat show, The Talk, is mom to 2-year-old Zev Isaac with her husband, comedy writer Judah Miller. Winokur, 37, who won a Tony for her role in Hairspray on Broadway, was diagnosed with cervical cancer 10 years ago, had a hysterectomy and later welcomed her son with the help of a surrogate. Though her road to motherhood had a few twists and turns, she faces the same joys — and challenges – as any working mom. Let's welcome her onboard!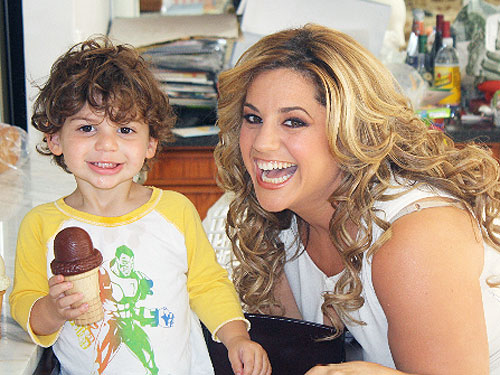 Zev and Marissa – Courtesy Marissa Jaret Winokur
As I sit to start my first mommy blog (not to be confused with my dieting blog … that didn't work, I never lost weight!) you have to know that I have had a hard time finding the time and place to even type this.
Then I realized that is exactly what I need to blog about: We talk about the "balancing act of motherhood," but has anyone really figured it out yet?! If so, please comment down below. (Please, only say nice things because I read the comments…)  🙂
Here's my situation: I have now started a new job as a co-host on The Talk! This will really be my first full-time job since my son Zev was born in July 2008. As most of you know, "the road to Zev" was not an easy one.
If you don't know my story, Google "cancer + Broadway + Hairspray," "starring on Broadway in Hairspray while beating cancer," "surrogate + Dancing With the Stars + semi-finalist," or "surrogate pregnant while becoming a semi-finalist on DWTS." Or who cares, and just start fresh with this blog.
All you need to know is that I've been a full-time mom for the past year-and-a-half, and now I am starting a full-time job — and I am totally freaking out!!!
I find that I am being pulled in so many directions. I call it the 25 percent club. It's like I am only 25 percent available for everything I do. My husband gets 25 percent. My son gets 25 percent. My job gets 25 perfect. And I get 25 percent. THAT IS NOT GOOD!!!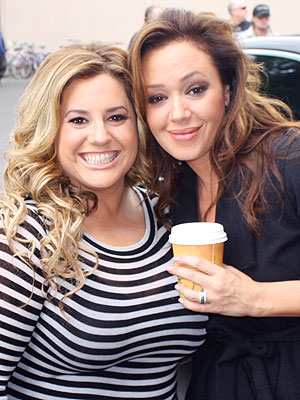 Marissa and co-host Leah Remini – Courtesy Marissa Jaret Winokur
The other day, I was at work with Sharon Osbourne and I had to decide if I should run home for 40 minutes and eat lunch with my son or stay and get some work done for the show. She wisely advised me to go home, saying, "You have your whole life to work, but you can only be a mom to that 2-year-old right now." She was right. I went home and after Zev went to sleep I got my work done.
So what do we women do?! How can we be strong working women, loving mothers, take care of ourselves mentally and physically (I am seriously gaining a pound a day!) and there was one more thing … um what was it? … Oh well it must not be that important. OH YEAH, a wife! How can we be good wives or loving partners?
Seriously, I now sleep in my son's racecar bed at night with him because he cries and well, I feel so guilty not spending the whole day with him that I try to make up for it at night with cuddles and snuggles. Yes, I am aware my husband would appreciate it too, but…
I am hoping that as I blog, I'll find tricks and learn things that I can do to make the balancing act easier for me and for you! Just so you know, I am actually sitting in my car on a little BlackBerry blogging because I have no place in my house that's quiet.
I guess that should be our first task this week: Let's all try to find a place that is quiet — and the bathroom does not count! How many times have you said, "I'll be right back. I have to go to the bathroom," and left your child and spouse for at least 20 minutes just to sneak away for quiet time? ADMIT IT, YOU DO!!!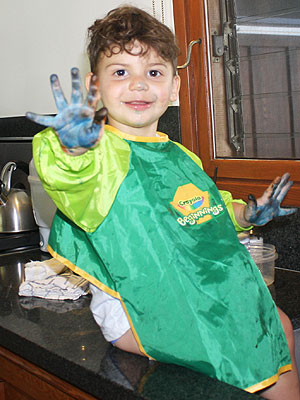 Zev paints! – Courtesy Marissa Jaret Winokur
— Marissa Jaret Winokur
A warm welcome to Marissa! What questions do you have for her? What topics would you like to hear from her about in the future? You can also follow her on Twitter @MarissaJWinokur.