Samantha Harris: Josselyn Is My Little Yoga Buddy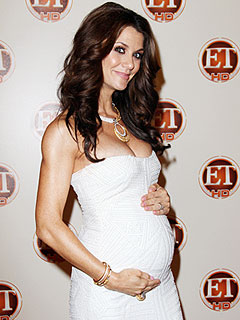 Tony DiMaio/Startraks
Samantha Harris has maintained an impressive figure throughout her pregnancy with her second child, due in January. But the Entertainment Tonight correspondent, 36, gets by with a little help from a friend.
"My 3-year-old daughter actually does a very good down dog," Harris tells PEOPLE of her yoga-loving youngster Josselyn Sydney.
"She's interested in whatever Mommy's doing. She actually knows my friend Patrick's DVDs by name, so she'll say, 'Let's do Patrick's video.' Or she'll say, 'Mommy, let's turn this one off. Let's do yoga instead.' She knows [I] likes to exercise and she knows what exercise is, and she's really great about helping [me] out when she can."

But the svelte correspondent admits she has a soft spot for more than just working out.
"I do have a weakness," Harris explains. "When I go to the Entertainment Tonight set, I go to the craft services table where they have these really great chocolate-covered old-fashioned doughnuts. I take them and I eat a chunk out of it. I don't eat the whole thing, but I definitely cut myself a nice slice of it."
Harris, who says she doesn't overdo it, also likes to dabble in another sweet treat. "I end up making another sweep past the craft services table for some M&Ms."
-– Dahvi Shira