Mark McGrath's Blog: The Buck Stops Here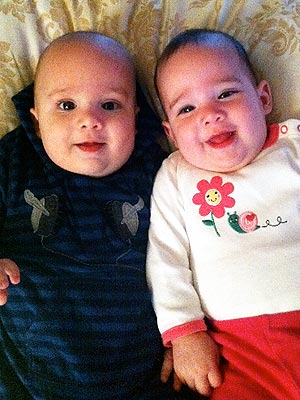 Lydon and Hartley — Courtesy Carin Kingsland
You may recognize his voice and presence on your TV screen, but our celebrity blogger Mark McGrath has a new role — dad.

The Sugar Ray frontman is proud papa to 5-month-old twins Lydon Edward and Hartley Grace, his children with fiancée Carin Kingsland, as well as the new host of Don't Forget the Lyrics!, airing weekdays on VH1 and in syndication.
In his latest blog, McGrath, 42, recalls 'taking the lampshade off his head' to figure out how he'd handle the cost of twins.

Wow!! When I first started this blog, I wasn't really sure what to write, or if I should even do it at all. However, after reading all of your encouraging and heartwarming comments, I have come to realize that it has become an extremely rewarding and therapeutic experience for me.
Many of you have thanked me for sharing our stories, but let me be the one to thank YOU for listening … for I have come to realize that I needed this to process the emotional year I have had. This blog has become a necessary release for me — a chicken soup for the soul if you will — and a hell of a lot cheaper than therapy!
So on this one people, leave the crying to me, because in this week's edition of Mark's blog we feature … finances!
Nothing in the world will straighten out a man's focus and priorities than hearing two and a half words … I'm pregnant! When I heard those words back in September of '09, I immediately took the lampshade off my head and sprung into action.
My first thought was (and still is!) "How am I going to pay for this?!" Little did I know that in a few weeks, my financial anxieties would be doubled when we found out we were having twins. And to top it all off, Carin and I were already behind the eight ball because just getting pregnant cost us in the neighborhood of $15,000.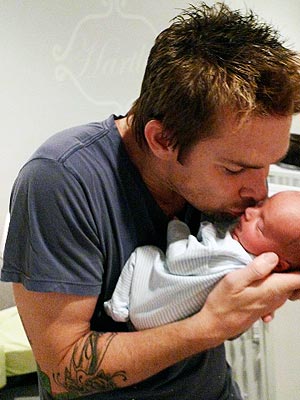 Sealed with a kiss — Courtesy Carin Kingsland
Alright, I know, I know … this is the part where the reader starts thinking, "Oh yeah sure Mark, you are a quasi-celebrity and the luckiest guy ever to sell a record. You're filthy rich, why are you complaining?" Well, you would only be half-right.
It is true that I have certainly been overpaid and underworked in my entertainment career, but I made the majority of my money in my early adult life. Having always been aware of the fleeting nature of fame, I was fortunate enough to sock away some dough, but I also had my fun. I have learned some valuable fiscal lessons as well, such as following the seasonal changes at Gucci just isn't worth it to me!
Basically, I was doing some financial planning but at best case it was concerning Carin and I, not the two little blessings that came into our lives on April 29th of this year.
It immediately became apparent to me that we would be moving. I've lived in a cozy Laurel Canyon home that Carin and I have put a lot of love into for the past 11 years, but 1,500 square feet just ain't gonna cut it for rapidly growing twins. It breaks my heart to sell the house, but like many of us in these trying times, I need the equity to buy a bigger home.
It's a trip now to be looking for a house within a good school district and with suitable sidewalks — a far cry from my domicile concerns 11 years ago! Schools are our first priority, because I refuse to pay for the right to a decent education, especially with twins. I have heard horror stories of people in L.A. paying 16G's a year for preschool … preschool, people!
Look at me, rambling on as usual and going over the blog word allotment (sorry PEOPLE.com!). I blame the readers — they are inspiring me to explore the details, to do a freeform jazz improv unfiltered from my brain about the joy of becoming a dad.
Yes my friends, this one is gonna be costly … baby clothes, formula, a nanny (when possible!), toys, Mommy and Me classes, diapers, strollers, and the list goes on. But I have one question for you — have you ever had your baby fall asleep in the crevice of your neck, two hearts beating as one, while you are completely enveloped in that perfect new baby smell?
Well I have … and it's priceless.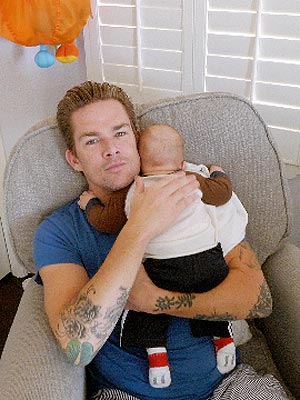 Mark cuddling with Lydon — Courtesy Carin Kingsland
— Mark McGrath