Spotted: Sasha Schreiber Gets a Grip!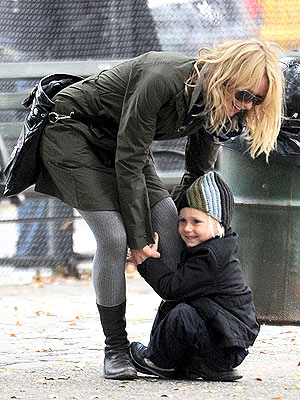 Flynet
Never letting go!
Alexander 'Sasha' Pete Schreiber, 3, holds on tight to Naomi Watts' leg while returning from a playdate on Friday afternoon in New York City.
When it comes to managing the paparazzi, the Fair Game star tells New York that fiancé Liev Schreiber handles it.
"Liev knows how to deal with them better than me. We try to negotiate with them," Watts, 42, explains.
"He'll say, 'Okay, little bit of eye contact, we will give you a picture. Hang with us a few blocks, but then you must disappear' … Most of the time they will."
RELATED: Spotted: Naomi Watts and Kai Park It