Jane Kaczmarek: 'My Kids Have a Great Dad'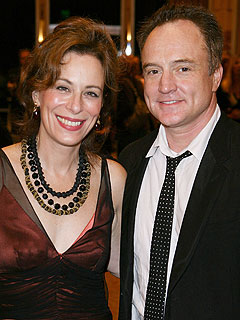 Ryan Miller/Getty
In recent years life has changed dramatically for Jane Kaczmarek, and the actress is taking those changes in stride.
When asked whether she would ever remarry, Kaczmarek — who split from actor Bradley Whitford in 2009 — appears conflicted.
Having "just" signed divorce papers and calling Whitford the love of her life, she says any decision would be guided by the couple's three children Frances Genevieve, 13, George Edward, 10, and Mary Louisa, 7½.
"My kids have a great dad," she continues. "I don't really want them to have a stepfather and I don't think they do either. It's so new."

Recalling happier times, Kaczmarek reflected on when she and Whitford juggled two hit television shows and a growing family.
"I was trying to have another baby, going through all sorts of fertility stuff, and one day Warner Bros. called and West Wing had gotten picked up," she explains. "The next day Fox called and [Malcolm in the Middle] had gotten picked up. The next day the doctor called and said I was pregnant. I remember saying to Brad, 'I wonder if our lives are going to change?'"
Kaczmarek would later become pregnant again while filming Malcolm, as Whitford worked "constantly" on West Wing. "It was glorious, that seven years," she insists.
"You knew exactly where you were going to be. You knew when you could take vacation. You knew what you could spend on renovating our house. I remember thinking if I got the part, it would pay for a new bathroom."