Alicia Keys, Swizz Beatz Welcome Son Egypt Daoud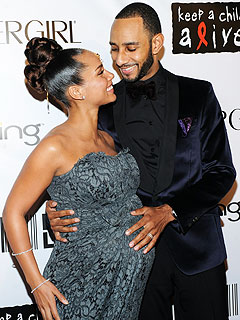 Stephen Lovekin/Getty
These days, Alicia Keys is in a motherhood state of mind.
The singer and her husband, Kaseem 'Swizz Beatz' Dean, "joyfully welcomed their first child, a son Egypt Daoud Dean on Thursday, Oct. 14 in New York City," the couple's rep confirms in a statement to PEOPLE.
This is the couple's first child together, though Egypt "is welcomed by Beatz's three other children," the statement adds.
Keys, 29, and Beatz, 32, are also newlyweds. The singer and the rapper-producer got married in a private ceremony overlooking the Mediterranean Sea in July. At the time, the two didn't know the gender of their child, but Swizz Beatz said they were excited to start a family together.
"Whatever we're blessed with, that baby is being born to blessed parents," he told PEOPLE at the time. "Alicia is definitely one of those great parents-to-be. She's super ready. Super glowing. Super happy."
On Thursday night, he seemed to be in a reflective mood, Tweeting, "I'm so thankful for everything I been blessed with in my life."
— Carlos Greer