Gavin Rossdale 'Slides Away' from Diaper Duty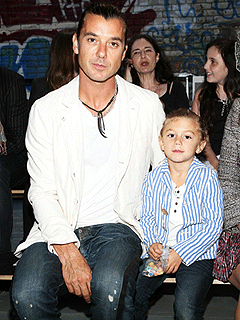 Jerritt Clark/WireImage
From park playdates to family outings, Gavin Rossdale is a hands-on dad to Kingston James McGregor, 4, and Zuma Nesta Rock, 2 — except when it comes to diaper duty.
"We have good people around us. If there's no one there, I can do it, but otherwise I sort of slide away — I get very interested in my Blackberry at that point," the Bush frontman, 44, shares in the November issue of Details.
"A friend once told me, 'By the way, they never thank you for changing their diapers when they grow up, so don't sweat it.' I thought it was good advice."

And while Rossdale has become an expert in dodging a dirty diaper, he admits escaping the prying eyes of the paparazzi has only gotten harder since having children. "I'll want to take my kid to the beach, and there's six grown men chasing us," he explains.
"He's running around in his underwear as every child should, and I have to go up to them and say, 'Can you not photograph my son running around in his underwear?' The pictures show up anyway."
Aware of his surroundings — and protective of his mom Gwen Stefani — Kingston has no qualms about expressing his frustration when the photographers get too close for comfort.
"He went through a really angry stage. He'd scream at them, 'Get away! Don't take a picture of my mom!'" Rossdale recalls. "They'd say, 'Wow, Kingston's really moody!' You're a f—ing grown man running after a 4-year-old! What do you want him to do?"
As he continues to "nurture" the father-son relationship with his boys, Rossdale admits he's had to take a different approach when it comes to Daisy Lowe, 21, the daughter he learned of in 2004.
"With the boys it's traditional; I'm all they know and I'm with them all the time. With Daisy, I don't know her in that context," he says.
"I love my connection with her, but I don't have any say in who she is. With the boys it's my job to correct them and shape them. With Daisy, I just have to be respectful. I suppose it's more like a friendship."
— Anya Leon