Mark McGrath's Blog: Completing the Circle of Life
You may recognize his voice and presence on your TV screen, but our celebrity blogger Mark McGrath has a new role — dad.

The Sugar Ray frontman is proud papa to 5-month-old twins Lydon Edward and Hartley Grace, his children with fiancée Carin Kingsland, as well as the new host of Don't Forget the Lyrics!, airing weekdays on VH1 and in syndication.
In his latest blog, McGrath, 42, recalls telling his father his and Carin's great news — and how preparing for the twins' baptism became his dad's final family duty.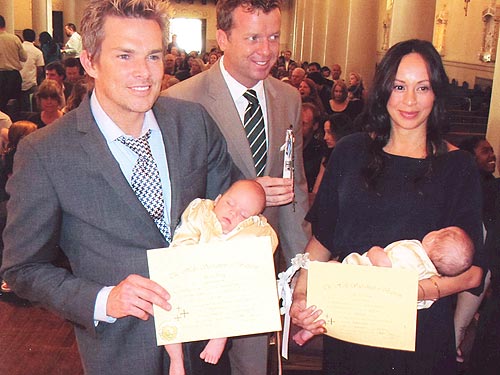 Mark, Lydon, director McG — the twins' godfather — Hartley and Carin at the church – Courtesy Carin Kingsland
I can still remember the joy in my dad's voice on September 3rd, 2009 when I told him Carin was pregnant. It was memorable because it was warm and fuzzy, but most importantly, it was vulnerable. The kind of vulnerability found in the uncontrollable joy that only children can mine out of the hardest individuals. Dad wasn't necessarily hard, but he was definitely Irish — let's just say giant bear hugs and "Up with People" musings did not dictate McGrath family gatherings!
My family happens to be mostly single, professional people more inclined to hear the din of the crowd during some bowl game than the pitter patter of little feet during the holiday season. At an early age, my sister Tracey had made it clear that she did not desire children, and I was too busy rockin' the world, avoiding responsibility, and being selfishly involved in my own orbit to think about kids. So it's safe to say that the last phone call my dad expected to get from 41-year-old me was that Carin was pregnant with twins.
Along with the profound joy, I could sense a real tangible feeling of pride in Dad's voice as I rambled on about how excited we were about having twins. As I wrapped up the conversation, I think Dad realized he had an unexpected new role in life — that of a grandfather. The tone of his voice became a little more serious as he blurted out, "What about the baptism?"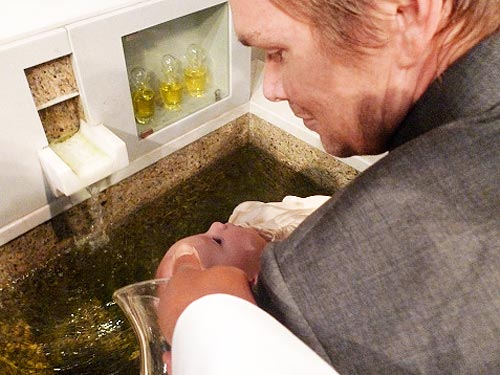 Mark holding Lydon as he is baptized – Courtesy Carin Kingsland
Ah yes, the baptism … the Catholic ritual of washing for the rite of admission into the church. Now I was a little rusty in my practices of sanctity, so needless to say, the baptism was not the first thing on my mind. However, as I spoke more and more with my pop, I was beginning to realize it was definitely on his, so much so that it almost became his duty.
As the weeks went on, this "duty" was almost becoming annoying — he was obsessed with the logistics of the event! He even sent a baptismal outfit that had been worn by generations of McGraths. I didn't even know it existed — shows you how much faith he had in me having children!
When the outfit did arrive, it became a source of contention between Carin and I, seeing as we were having twins. "Who cares if there's only one and it looks like it was last worn by baby Liberace?!" I said. She only relented when my dad offered to pay for the whole affair — no small task due to Carin's proclivity for the Four Seasons!
As the months passed, my dad began to lose a lot of weight and seemed to be getting weaker. A lifetime of smoking and being a charter member of the Rat Pack lifestyle was finally catching up to him. It was frustrating for all of us, for my dad had a real aversion to the bulls— bureaucracy of Western medicine, and any cajoling on our part would leave you excommunicated. Carin and I began to prepare ourselves for the worst, and we were so relieved to see Dad at the hospital for the twins' delivery on April 29th.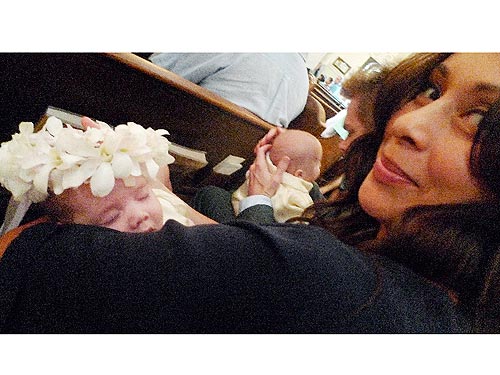 Hartley, Carin, Lydon and Mark at the baptismal Mass – Courtesy Carin Kingsland
The birth of the twins completely softened my dad. To see him hold my son — his grandson — was one of those times when everything is perfect in the world. You don't ruin the moment with words, but it is acknowledged in the spirit of the hierarchy and cycle of life. Though those were some of the best days I have ever had in my life, they were bittersweet, as beyond his brave face I could see that my dad was struggling.
July 18th, 2010 was one of those glorious summer days in southern California, and the breeze coming off Santa Monica beach gently soothed the throngs of parishioners at the St. Monica Catholic Church. The ceremony was perfect — Hartley and Lydon behaved like the little angels they are at their first formal gathering. My dad was so proud … the kind of pride a son gets from his dad maybe once or twice in a lifetime, if you're lucky.
At the reception, surrounded by the love of family and friends, I caught a glimpse of my dad that will be forever etched in my memory. He had the most enlightened look on his face — a look of complete satisfaction and decompression that he had beaten the clock, that his job was done. The look of someone who had accomplished everything he needed to do in his life … and he did.
Edward T. McGrath passed away on August 7th, 2010.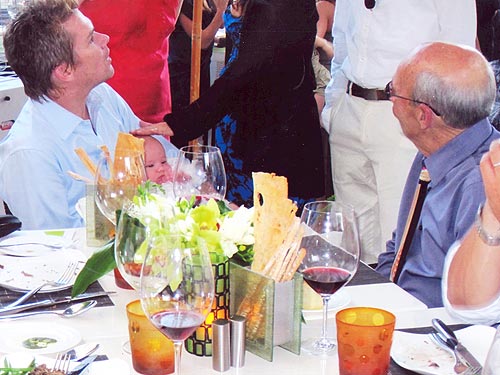 Mark and his father at the reception – Courtesy Carin Kingsland
— Mark McGrath