Larry Birkhead: Dannielynn Even 'Scowls Like Anna Nicole'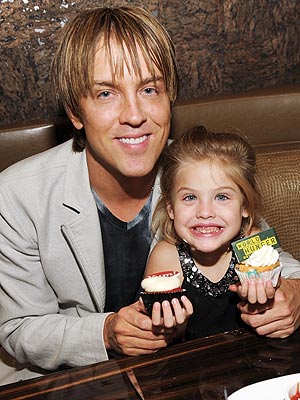 Denise Truscello/WireImage
Anna Nicole Smith's memory lives on in Larry Birkhead's house – whether it's the multitude of pictures or the 4-year-old girl running around with the same mannerisms as her famous mother.
"When she's mad she scowls like her mom," Birkhead says of their daughter Dannielynn Hope.
"There isn't a day that goes by where you don't see some similarity to her mom."
On Monday, though, the peppy little girl was anything but scowling. The energetic blonde was spotted scarfing down cupcakes and French fries and making her dad chase her through Las Vegas's Beso during the Itzy Ritzy and Yum! Brands' World Hunger Relief benefit.

Her smile is also a carbon copy of her mother's, Birkhead said. Perhaps, though, she learned that smile from actually seeing Smith.
"She can identity her mom," Birkhead said. "She knows when she sees her on television or features. I always make sure that there are plenty of pictures around and I tell her the kid-friendly stories. She'll always remember her mom, but she'll always remember [her brother] Daniel, as well."
The pair share Smith's former residence in Los Angeles — where a jury on Tuesday started deliberating felony charges in the two-month trial of two doctors and Smith's boyfriend. The three are charged with multiple felony charges of conspiring to furnish prescription drugs to an addict.
Now in preschool, Dannielynn spends her time dreaming of new SpongeBob SquarePants toys, play dates with friends and desserts.
"I had to get a separate calendar to keep up with her social schedule," Birkhead said. "Once you start school, it's a whole new world. She's having fun and doing great."
— Mark Gray