Victoria Beckham Teaches Sons To Buy Their Breakfast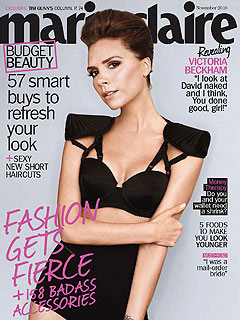 Courtesy Marie Claire
No need to sound the alarm — Victoria and David Beckham's 11-year marriage is doing just fine.
"We are still so close … We were at a party the other day, at my mum's house, and I was sitting on his lap. We're very affectionate," the fashionista, 36, reveals in the November issue of Marie Claire. "We were the only couple who were even near each other at that party. We're soul mates."
Unfortunately, Beckham says, time in the spotlight is just a part of the life they have chosen. And while their celebrity status sometimes take its toll, she's not complaining in the least.
"Someone said to me once that fame is not like a jacket. You can't put it on and then take it off," she muses. "But it was fun becoming famous. I mean, I even wanted to be one of the kids in FAME when I was growing up. To sing and dance on the top of a taxi cab in NY — I was so there."

Noting that she has "been in the public eye for about 15 or 16 years," Beckham admits fame is not a given, and is forever working at keeping up her persona. "But I've always been a worker," she explains. "I've never expected to be given anything."
And that lesson is one both she and her husband take seriously — especially when it comes to raising their three boys, Brooklyn Joseph, 11½, Romeo James, 8, and Cruz David, 5½.
"We've always been very strict with the kids. That's the way David and myself were brought up," Beckham says. "But they're free spirits as well. They laugh. They joke. They have fantastic personalities. I love hanging out with them."
That said, the joke was on the boys when an enthusiastic Beckham made the unpopular decision to turn breakfast time into an impromptu lesson in American money!
"I had Post-Its all over the breakfast cereal. On the bread. On the milk. I got a box of fake money from Toys 'R Us," she laughs.
"I told them at 6 a.m., 'We're going to learn about American money. I'm going to make you buy your breakfast.' I hand them all a bit of the money. They were all just waking up and going, 'Mum, we just want our Coco Puffs.' And I'm going, 'Coco Puffs! Cost one dollar twenty!'"
— Anya Leon