Mira Sorvino: Kids Need 'Closeness' with Their Mother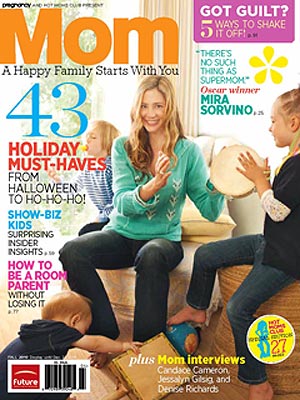 Courtesy MOM
She may be a veteran mother-of-three, but Mira Sorvino will forever try to live up to her own mother's parenting example.
"My mother was a full-time stay-at-home mom, so I find it really, really guilt-making when I go and work," the Like Dandelion Dust actress, 43, reveals in the Fall issue of Mom.
"She used to do treasure hunts in the back yard and write clues and hide things in trees and she made her own piñatas — and she's not Mexican … I don't always measure up to her standard, but I try."

But despite her hectic schedule, Sorvino does her best to keep her family close by bringing her brood along for the ride.
"On the road it's very rare that I don't bring the kids with me," she says. "At this early age, they still need the closeness with the mother. I don't feel right about leaving them."
Fortunately, Sorvino's children with husband Chris Backus. Mattea Angel, 5½, Johnny Christopher King, 4, and Holden Paul Terry, 15 months — and the family pets! — keep things light and fun on set.
"We actually brought along a blow-up trampoline and put it in the bedroom right next to my bed and they would jump and jump and jump, and it was just such a great counter to the heaviness of the scenes that I would play during the day," Sorvino shares of her latest film.
"We also brought the cat — Snowball the Fighting Cat. We travel sometimes with one of our animals, sometimes with two, and sometimes we travel with all four!"
That said, while Sorvino takes the time to search for a working balance between her career and her personal life, she admits she is always torn in opposite directions. "There's kind of an image of, 'Yay, — the happy working mom!' and everything works out so well, but it's really difficult to juggle," she explains.
"There's no such thing as the supermom who does it all and it's all perfect. You only have 100% to give, and you can't give 100% to both your work and children."
— Anya Leon