Lou Samuel Celebrates First Birthday with a Cupcake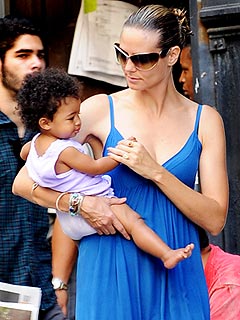 Katie B/Eagle Press
What does Heidi Klum and Seal's baby girl Lou Sulola have to look forward to on her first birthday Saturday? Cupcakes, candles and some heartfelt gifts.
"We're just hanging out at home for her birthday," Klum, 37, told PEOPLE at the launch party for her new activewear line, Heidi Klum for New Balance, on Thursday in New York.
"I got balloons and I got cupcakes — she's going to eat her first Sprinkles cupcake!"
As for the birthday girl's present? Her mom has decided to make her gift a new family tradition.
"I made her a beautiful necklace," she said. "It's the same necklace I made [now 6-year-old] Leni when she [turned] 1. It's an 'L' with blue diamonds. Leni's is pink, [and] she still wears it. It's like their 1-year present."

While baby Lou might be sharing a present with big sister Leni, she'll also be sharing something else on her special day … the candles on her birthday cake.
"You don't know how many times I have to turn the candles on again," the model said, laughing. "It's always a fight, they're all going to help her blow out the candles."
Even though her siblings — including Henry, 5, and Johan, 3½– may try to steal her candle glory, Klum says they all adore their youngest sister. "They're always around her," she said. "She's like their little princess."
— Mussarat Bata