Jennie Garth's Girls Taking School Days in Stride
Jennie Garth always amazes us: she balances her career with three growing girls, and happens to be married to a Twilight star, too! And she's never been afraid to speak up about what she believes in, whether it be body image, making marriage work or taking extra-special care of your kids. Throughout October, she's serving as the face of Walk to School Month, encouraging families to walk their kids to class each morning.
We recently had the chance to chat with the actress about daughters Luca Bella, 13, Lola Ray, 7½, and Fiona Eve, 4, plus her involvement with the Green Works Walk to School Challenge.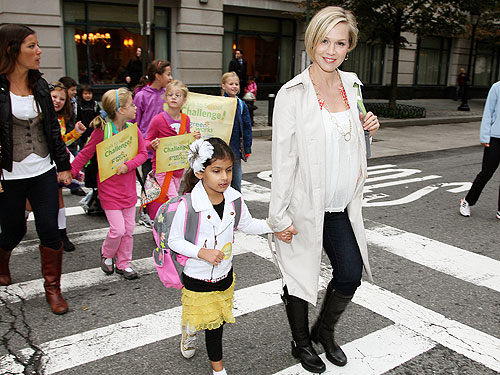 Amanda Schwab/Startraks
Why did you get involved with the Green Works Walk to School Challenge?
I take on things that I feel have meaning to me or other parents out there. This was an opportunity to help families have some more quality time together, get some exercise and live a more natural, healthy lifestyle. It fits in with the things I do.
This Green Works Walk to School Challenge enables kids and families to experience shared walks to school, but they can also sign up for the actual challenge, which enables them to win grants for their schools — and those are desperately needed. So this is a great opportunity, a win-win situation all around. I definitely encourage parents to go onto the Green Works Facebook page, sign up, log their footsteps to school and keep track of their bicycling to school — that's eligible, too!
Did you walk to school as a child?
I lived really far out in the country, so walking wasn't really an option, but I did walk a good way to the school bus every day. Now, I've just moved to a place near our school, so I can walk my girls, and it's been great. If you're able to walk your kids, or even drive a few blocks away and park, it's fun! It gets people out and active. I think it's really important for our children.
Speaking of school, how are your girls?
They're great! They're 13, 7 and 4, and just in all their glory, in each of those age categories. Thirteen hasn't been hard, actually. I think that I was fortunate to work with Amanda Bynes when she was 16 and I was in my thirties, and I got to see what it's like to be around a teenager a lot.
That was sort of my 'training' for being the mom of a teen, so now I can roll with it a little easier — I know what's typical teen behavior, and instead of it bugging me quite so much and being an obstacle, I can embrace it and think, 'That's how she's supposed to be behaving.' We have a really good 13-year-old daughter — she's a great girl — so we've been fortunate so far.
Is Fiona in school now, too?
She goes to pre-school three days a week, and she just loves it. And I love having the empty house! I love when she's at school, and it helps that I know how much she loves it, and how happy she is. I get a lot accomplished at home when there's no one there.
With three school-aged daughters, what's the getting ready process like in your house each morning?
It's crazy! I try to keep it quiet, but the girls are starting to get old enough where they handle some things themselves. So I focus on breakfast and lunch while they get ready. But it's not too, too bad.
Is Luca still into sports? Are the other girls showing interest?
Yes she is, she's a point-scorer for her soccer team. She's doing a play at school this week, too. Our 7-year-old is in tennis now, and the 4-year-old is taking dance and gymnastics, so we're keeping the kids active. It can be a hardship for me to schlep them everywhere — drive the 'mommy bus' — but it's so important that they get off to a good start through activities like these.
We require our girls to do one physical activity outside of school each week, and one musical thing, too. They get to pick, and whatever they pick is what we support. At first we thought, Luca plays soccer, why wouldn't Lola play soccer, too? She's really good at it, she has a natural athletic ability, but she wanted to do her own thing, and so we let her pick her own sport.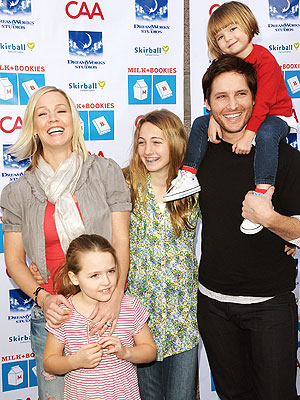 Jason LaVeris/FilmMagic
Have any of them been bitten by the acting bug?
We'll see how Luca's school play goes. The 7-year-old is desperately nervous and shy, and Fiona is just a ham, so I'm sure she'll be doing something someday!
Have you started planning for Halloween yet?
We're starting to talk about it. We're having a party for the eighth graders, and we're talking about what we're all going to be. The girls are going to the costume box!
We'll have a haunted-house type thing, too. We have a lot of Halloween decorations, so we have to put them to use!
Last time we spoke, Peter was away on location. Is he back now?
He's away again, now in New York doing Nurse Jackie, then he goes straight into the next Twilight movie in November, so he'll be tied up until spring of next year. We cope with weekend visits, here and there visits, so it's a tough, busy time, but it won't last forever.
With the girls, he does a lot of texting, a lot of Skyping. That's the best way to do it! Phone calls are different because there always seems to be chaos and we don't get to focus. But with Skype, the girls can carry the computer around the house to wherever they'd like to chat.
Are the girls allowed to watch dad in Twilight?
The older ones have watched it, and they're not scared — they know it's just acting! I'm sure it's a little weird, especially for Luca, to have your dad be in this huge series, but she doesn't really have too much to do with it. They get it a little bit from the kids in school but for the most part, kids just do their own thing. They're so wrapped up in their own worlds.
What's next for you?
I have a movie for the Hallmark Channel coming out in January, one that Peter wrote called Mulligan, so that's very exciting!
— Kate Hogan