Rob McElhenney Says Son 'Looks Like a Chooch'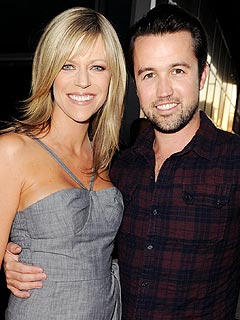 Kevin Winter/Getty
Coochie coochie … Chooch?
In a new interview with MLBlogs Network, Rob McElhenney suggests that son Axel Lee, 5 weeks, might someday have more in common with Phillies catcher Carlos 'Chooch' Ruiz than a fondness for the City of Brotherly Love.
"Axel … doesn't necessarily lend itself to a nickname because his name is already as cool as [s—]. But we're thinking Chooch," the It's Always Sunny in Philadelphia, 33, star jokes.
"I mean, he just looks like a Chooch."

Their devotion to the reigning National League champs is undeniable, but McElhenney says wife Kaitlin Olson's attendance at a Phillies away game in Los Angeles — while in active labor — was no accident. The couple was repeatedly warned that seeking medical help as soon as contractions began could lead to a long wait.
"Kaitlin said, 'I'm not going to do that. Let's just go about the day as much as we can. I'll just stay at this baseball game until it's no longer comfortable,'" he explains.
The game was close enough to keep Olson distracted for a time, but "as the contractions starting getting closer and closer together and getting more aggressive" McElhenney says the couple were conflicted.
With a swing of the bat — and a three-run homer in the books — Phillies slugger Ryan Howard made their decision easy, however.
"Yeah, it was like the fifth inning. Howard hit the home run and we were like, 'Let's just go. It looks like they have control of the game. It looks like they're going to win,'" McElhenney explains. "And then we left and she had the baby two hours later."