Mark McGrath's Blog: Our Fertility Journey, Part 2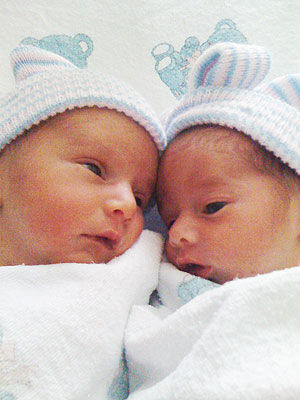 Lydon and Hartley on April 29 — Courtesy Carin Kingsland
We're glad you're enjoying the stories our newest celebrity blogger Mark McGrath has to share.

The Sugar Ray frontman is proud papa to 5-month-old twins Lydon Edward and Hartley Grace, his children with fiancée Carin Kingsland, as well as the new host of Don't Forget the Lyrics!, airing weekdays on VH1 and in syndication.
In his third blog, McGrath, 42, wraps up his account of the fertility struggle he and Carin went through in their effort to become parents.

Getting Started
So here we go — Carin and I are going to take our first (and last) shot with IVF. We are a few days away from the second leg of Sugar Ray's '09 summer tour, and it's time for the first step in the process … hormone injections.
Though Carin is my sweet angel the majority of the time, she does have her moments when it's her time of the month. Let's just say that with her doubling up on the hormones, it wasn't the worst thing in the world to be headed back out on the road with the band!
In addition, when I saw the size of the Pulp Fiction-adrenaline style needles that needed to be plunged into her derrière, I was happy to relinquish the job to her capable friends. Dr. Ghadir's staff was very helpful, and there is nothing more powerful than the collective focus of close girlfriends with the sole mission of getting one of their own pregnant!
It may sound a little callous, or that I was abandoning her in her time of need, but I've always been amazed at Carin's independence and strength. I have to say though, with all that we had been through, I really felt that the pregnancy was just not going to happen.
It was so strange to be living this fantasy rock life each night, playing to adoring fans and traveling on a tour bus, while simultaneously trying to start a real life at home. Carin was a trooper while I was away … she had some sleepless nights, we had some short conversations, and she only threw my stuff out of the house twice!
The tour began to wind down, Carin was militant in her hormone process, and though I was still riddled with doubt, it was time to pay the piper.
Unexpected Good News
My second day back, we had a doctor's appointment. As we entered Dr. Ghadir's office, the last thing on my mind was that my life was about to change (it's such a trip to recall this and write about it as I hear Hartley starting to wake up in the nursery)!
I thought there would be some disappointment, crying and then some frozen yogurt recovery. Simply given the facts of our medical history, we were looking at a long shot at best.
First thing that morning, we went to have Carin's blood drawn. Normally, it takes several hours to get your results back, but Carin worked her magic and sweet-talked — in Spanish — the male nurse into running the test quickly. As we sat in Dr. Ghadir's office talking to him, the nurse came in and slipped him a note, which he excused himself to read.
When he came back he had the great news … Carin was pregnant! We shot this slightly shaky iPhone video (with a little help from Dr. Ghadir) right after we found out:
Now at that time, we didn't know what we were having but we did know our chances of having twins were high because we had transferred three embryos. However, Carin's hCG (human chorionic gonadotropin) levels were at the normal numbers for a singleton baby. PHEW!
Reality Hits – Times Two

Time for another wait — 10 days until Carin's first ultrasound. "All right, let's take a look," Dr. Ghadir's assistant Helen said as we took our seats in the ultrasound room. When you undergo such an emotional journey, it's hard not to become close to the people involved — in fact, the lines get blurred between staff and friends. We could actually feel the love and support from everyone in the office, and Helen was no exception!
"Ohhh, there we go," said Helen. "There we go what?" I thought, staring at the screen pretending to know what I was looking at. "Congratulations guys, it's twins!" Helen exclaimed. It couldn't be true! I was shocked. How could that be? Are you sure?!
I went numb. Everything was surreal. I'm gonna be a dad. Carin is going to be a mom. We need to get married right away! How am I going to pay for this? I need to call everybody. Are you sure, Helen?!
As I slowly came around, I was so proud as I gazed at Carin over breakfast — it was her faith and commitment to the process that was giving me the two most beautiful blessings in the world. One thing I was sure of as I entered a new universe of uncertainty … I most definitely had the right partner.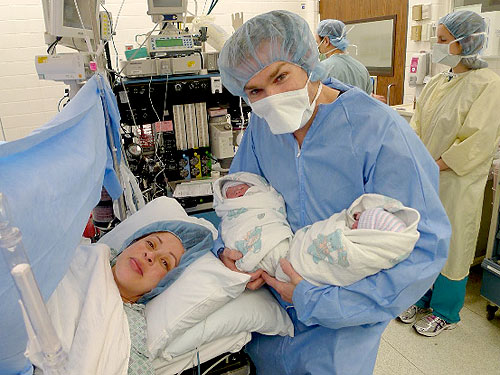 Family shot shortly after the twins were delivered on April 29 — Courtesy Carin Kingsland
— Mark McGrath