Stella Pompeo Ivery's Birthday Treat: Cake!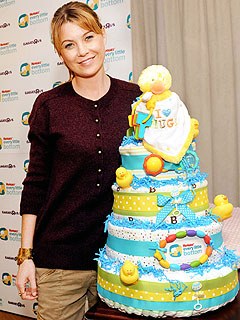 Diane Bondareff/AP
When Stella Luna Pompeo Ivery turned 1 last month, she celebrated the big day with a special treat: her first bite of cake.
"She'd never had cake before," mom Ellen Pompeo told PEOPLE Tuesday at Huggies Every Little Bottom launch event at Babies 'R Us in New York City.
"She doesn't really have a lot of sugar, just only in fruit. So the cake was a pretty big deal because she'd never had anything that sweet before. She had little bites."
And what'd Stella think? "She loved it," the Grey's Anatomy star, 40, laughs. "[But] she's not going to have it again until next year!"

While Pompeo spends many hours on set as Meredith Grey, Stella stays home with proud — and very capable — papa Chris Ivery, the actress says.
"He's such a good dad … he adores her," she adds. "He really takes pride in not needing me for things. When I'm at work, he lets me know that I don't need to call and check in on him. He's fine."
The couple, who quietly wed in 2007, make sure to set aside alone time in the evening.
"Stella goes to bed at 7 o'clock every night like clockwork, as scheduled and then you have the whole night," Pompeo explains. "We play checkers."
Will she let Ivery win? "Never!" laughs the actress.
— Mary S. Park