Jessalyn Gilsig Gleans Parenting Tips on the Plane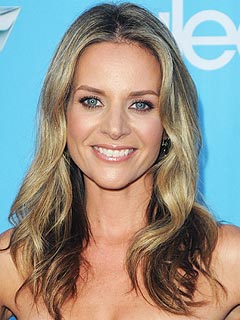 Kyle Rover/Startraks
Jessalyn Gilsig's parenting advice can't be found in any baby book. So where did the Glee star get her best tip on raising daughter Penelope Clare, 4? From none other than a pre-flight safety spiel!
"My mom told me, 'Remember on the plane, they say if the oxygen masks come down, put yours on first before your child,'" Gilsig, 39, shares in the Fall issue of Mom. "I said it would be impossible, and she said, 'I know, but they say it for a reason.'"
It didn't take long for Gilsig to realize the guideline extends well into her daily routine with her daughter.
"I realized she was saying the best way to serve your child is to make sure you're healthy, because they're so dependent on you," she explains.
"But it's hard, because you figure you'll get to yourself later. I've learned I'm no good to Penelope — or myself — if I'm not healthy."

That said, Gilsig's time with her daughter is just that, and the busy mama cherishes each and every moment with her family, including husband Bobby Salomon — free of distractions!
"Motherhood has taught me the meaning of living in the moment and being at peace. Children don't think about yesterday and they don't think about tomorrow. They just exist in the moment," she explains.
"When I'm with Penelope, I have to be present. I owe that to her — to not be haunted what might have been or to be obsessed over what I shoulda, woulda, coulda been doing."
— Anya Leon