Celeb Tots Love to Snuggle Up in Bambeeno Cashmere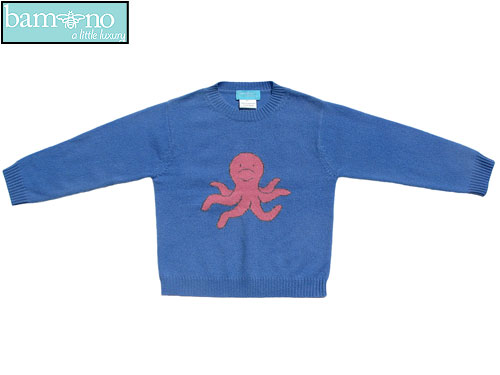 Courtesy of Bambeeno Cashmere
We're not the only fans of Bambeeno Cashmere's yummy, eco-friendly knits. Katherine Heigl recently snapped up a striped cashmere dress for her little cutie, 21-month-old Naleigh Kelley, to wear this winter.
Want some styles for your tot? They'll love the fun, whimsical designs (think octopi, hearts and trains). But if you want to keep things simple, go for the chic shawl collar sweater ($168 to $185) or the mock zip sweater ($145 to $165) with its classic contrast elbow patches. There's even an heirloom-worthy newborn gift set ($148), which includes booties and a hat.
We admit the prices are steep, but each oh-so-soft piece is worth every penny. Made from natural cashmere from Inner Mongolia, it will keep your little one cozy and warm during the colder months. To shop the collection, go to BambeenoCashmere.com.