Mia Hamm's Perfect Date: The Gym
Where do two athletes go on a date? If they're soccer star Mia Hamm and her husband, former baseball player Nomar Garciaparra, the answer is easy: to the gym.
Hamm says that the couple, who have been married for nearly seven years, often spend their quality time pumping iron. "We leave the kids with a sitter and we work out," says Hamm. "It's something we can do together. That's the time for the two of us."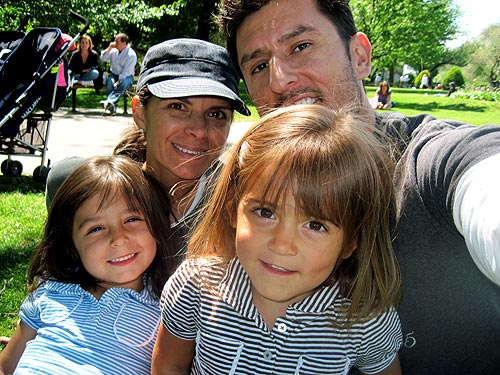 Ava, Mia, Nomar and Grace — Courtesy of the Mia Hamm Foundation
Hamm, 38, says that time together is fleeting, especially with 3½-year-old fraternal twins Grace Isabella and Ava Caroline. "I have a wonderful husband, so we're able to work it out," she says. "He has a very busy career, but he loves to spend time with the girls. We have a very good support system; my in-laws are fantastic."
And when the girls start playing sports? Don't expect that Hamm will automatically be their soccer coach. "Everyone always asks me that, but I don't know," she says. "I can sign them up for soccer and let someone else be their coach, but no one else can be their mom."
Hamm says that she's determined to feed her kids as healthy as possible. "It's so important what you give them to eat," she says. "Our whole family tries to eat well. We're all taking care of our health."
Her commitment to health is the reason behind her latest gig: as a spokesperson for Give Your Health A Shot, a public awareness campaign to educate adults about vaccinations and total body wellness. "Everyone needs to be proactive about their own health and the health of their children," she says. "Being healthy is a gift that needs maintenance."
And that might mean more date nights.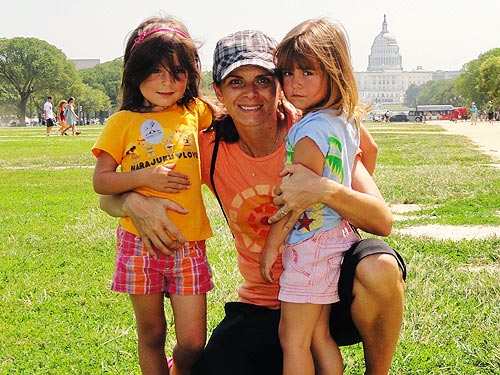 Ava, Mia and Grace in Washington, D.C. — Courtesy of the Mia Hamm Foundation
— Steve Helling