Melissa Etheridge: Kids 'Were Calm' About My Cancer Diagnosis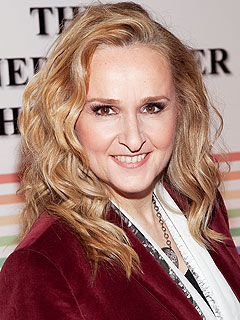 Paul Morigi/FilmMagic
When Melissa Etheridge was diagnosed with breast cancer in 2004, she didn't hide anything from her kids.
"They were 6 and 8 at the time," she recalls. "Tammy and I said that my tumor was like a lump with a cold in it, that the cold had spread to my body, and that we needed to take it out, and take some medicine."
Explaining her disease in terms Bailey Jean and Beckett (now 13 and 11) understood made things easier, she says. "I didn't say anything frightening, like 'I might die!' " she shares. "But I wanted to let them know the seriousness of it, too. They were calm about it."

Now completely cancer-free, and mom to two more children, twins Miller Steven and Johnnie Rose, who turn 4 this month, Etheridge is feeling great — and sharing her message of survival with people around the country on Wednesday night through the documentary 1 a Minute.
"I was struck by the woman behind the film," Etheridge says of director Namrata Singh Gujral. "She was a Bollywood actress who was diagnosed with cancer, and had such a societal experience with it. But she dedicated herself to going around the world and showing how each culture deals with breast cancer, and what's going on with this epidemic. I just thought, 'That's worthy of my time. That's something I want to be involved with.'"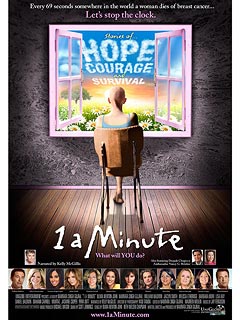 Courtesy 1 a Minute
The feature-length film, which also stars breast cancer survivors Olivia Newton-John, Jaclyn Smith and Diahann Carroll, will air one night only, Oct. 6, in theaters around the United States.
"It's very powerful," Etheridge says. "I never expected to become a face for breast cancer. Now that I'm outside, away from it, and healthier than I've ever been, I try to show people the positive side of it. Yeah, there's a horribleness to it for minutes, but there are things we can do to change."
She also credits her children for being there when she needed them most.
"I remember after it was done, we celebrated my 'cancer-free day'," she recalls.
"My then-8-year-old looked at me and asked, 'What would happen if you weren't [cancer free]?' And I was like, 'That would've been a real bummer!' My kids are the greatest joy of my life. And to see the bond between the twins … it's very heartwarming."
Click here to read more about 1 a Minute, in theaters this Wednesday, Oct. 6.