Life Imitates Art for Katherine Heigl and Josh Kelley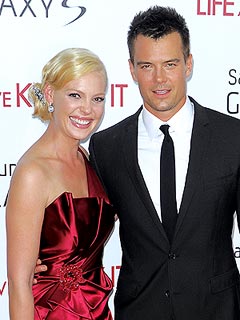 Henry Lamb/Photowire/BEImages
Life imitated art for Katherine Heigl and Josh Kelley last fall.
"We were going through the same things that she was going through in the movie at the same time," Kelley, 30, told PEOPLE at the New York City premiere of Life as We Know It on Thursday.
In the film, the actress plays a woman forced to raise a baby with Josh Duhamel's character — a former blind date that soured fast — after tragedy strikes their mutual friends. In real life, the couple's adoption of 22-month-old daughter Naleigh unexpectedly went through a week before filming began.

"It was a zoo, a full on circus," adds Heigl, 31. "Most of the time I just felt guilty that I wasn't spending enough time with my own daughter, and I was spending too much time with the triplets [who played the baby in the film] on set."
She's since made up for it! "Katherine's a phenomenal mother," raves Kelley. "She's just got the instinct, man. She's a really, really great mom. And she keeps [Naleigh] on a strict regimen. I think that's really important when you're raising a child. You have to keep it consistent."
With little Naleigh about to turn two, "she's starting to really be able to formulate sentences," Kelley, whose new single "Georgia Clay" is out now, says. "I think that's pretty cute. 'I love you Dada. I love you Mama.' I love that. She's able to mimic really well. It's phenomenal."
— Jeffrey Slonim