Naomi Watts: Sasha and Kai Think I Work In a Trailer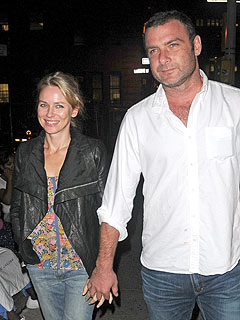 INF
As a working mother whose job is to play make-believe, Naomi Watts says her two boys with fiancé Liev Schreiber — Alexander 'Sasha' Pete and Samuel Kai — have interesting ideas when it comes to what their parents do for a living.
"They think our work is in a trailer," Watts, 42, told PEOPLE at the press conference for her latest film, Fair Game, on Saturday in New York. "They don't really understand it yet."
Sons Sasha, 3, and Kai, 21 months, do have an inkling that Watts and Schreiber live more than ordinary lives, however.
"There's been times where they see a photo or a flash of us on TV and they'll go, 'Oh, Mummy!' Or 'Daddy!'" she says. "But we try to explain that daddy or mummy has to go to work now and they'll say, 'I want to come.'"

Of course, occasionally the toddlers get a little more than they bargained for — especially when it comes to seeing their beloved parents in movie makeup!
"They saw [me] in quite a bad condition," says Watts, who is currently shooting The Impossible — based on the 2004 tsunami that hit the coast of Thailand — and found it difficult to bring the kids at first.
"I had to explain these 'ow-wies' were just pretend," the actress explains. "It took a little while — we prepped it days in advance and showed them how you can put a little bit of blood on and rub it off."
— Paul Chi