Amy Brenneman's Son Negotiates Dinner Table Terms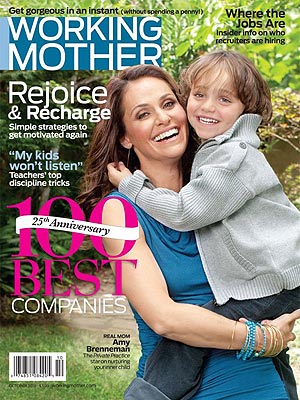 Courtesy Working Mother
Before Amy Brenneman signs on the dotted line, the actress ensures her children remain high on her list of priorities.
"With Private Practice, it's part of my contract that my children have their own trailer so that they have someplace to come to," the mom to Charlotte Tucker, 9½, and Bodhi Russell, 5, tells Working Mother.
"Charlotte is amazing on set. And the cranes fascinate Bodhi; he makes friends with all the grips."
And according to Brenneman, 46, her son Bodhi seems to have inherited his mom's stellar negotiating skills — especially at the dinner table.

"Charlotte is a good eater and was never a big sugar person," Brenneman shares. "But Bodhi negotiates around food. I might say that if he eats a nice meal, he can have ice-cream afterward."
But before he starts chowing down and making good on his promise, Bodhi is quick to firm up the rules! "He'll ask me, 'How many bites of food? What exactly will I get?' I'm thinking we may have to take dessert off the table," she laughs.
Fortunately for Brenneman, her partner-in-crime — husband Brad Silberling —  offers an unwavering support system. Planning their schedules so one parent is home often with the kids, Brenneman admits as a result of the extra time with dad, a close father-son bond has developed.
"What's been incredible has been to see a change in Bodhi when he turned 3½. I had been everything up to that point," she shares. "But then he was so in love with his dad, so proud of his dad. They continue to have this love affair. Often if Bodhi's riled up, he wants his dad."
The extent of that special relationship was particularly evident when Bodhi faced his first day of swimming lessons last summer — only to have a mini meltdown before entering the water.
"Neither Brad nor I could go, so his babysitter took him," reveals Brenneman of the common working motherhood balance. "Well, Bodhi freaked out. His babysitter didn't know what to do. I had a whole week of work, but Brad was able to go the next day, and he did a masterful job of being there for his son. I felt stabbed in the heart."
— Anya Leon