Josh Duhamel: Fergie and I Will Make Great Parents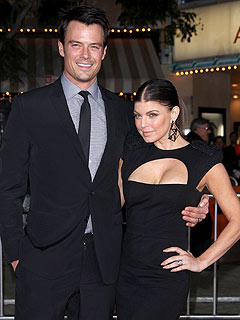 Goff/INF
Playing a dad in Life As We Know It was no tough task for Josh Duhamel.
In fact, the actor says getting to play a father is what "initially drew me to" the role.
"For whatever reason — I don't know if it is my mom or my dad, but I've always had a real fondness for kids," Duhamel, 37, admitted on the red carpet at the film's premiere in New York Thursday, adding that he knew playing a dad "would come naturally."
To get comfortable with the triplets playing the baby in the movie, Duhamel "came in a week early, and would get on the floor with all three of them," says the movie's producer Barry Josephson.

Obviously, Duhamel wouldn't be taking on parenting responsibilities alone. He says his wife Fergie would be equally doting on a child. "She'll be a great mom," he tells PEOPLE. "She got to meet [costar Katherine Heigl's daughter] Naleigh on set. It was great."
Duhamel has also found a fan in Heigl's husband Josh Kelley. "Josh is going to be an amazing dad … are you kidding me?" Kelley says. "That guy is going to be an awesome dad. He's one of the coolest guys I've ever met. I love him."
— Dahvi Shira and Jeffrey Slonim