Sophie Kinsella Dishes On Her New Book Mini Shopaholic – and Her Boys!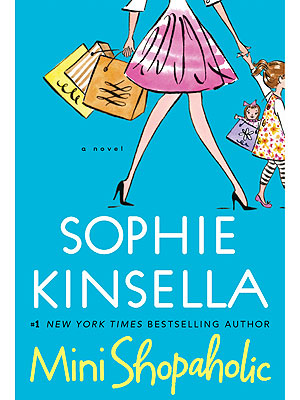 Courtesy Dial Press
Sophie Kinsella (a.k.a. Madeleine Wickham) skyrocketed to fame with her addictive Shopaholic book series. But behind stylish heroine Becky Bloomwood (a.k.a. Rebecca Brandon) isn't a label-addicted fashionista, but rather, a charming, down-to-earth mom who spends every free moment with her husband Henry and their sons Freddy, 14, Hugo, 12, Oscar, 5, and Rex, 5 months.
We recently had the chance to speak with Kinsella about her latest novel, Mini Shopaholic, which sends Becky through adventures in parenting — and shopping, of course! Here's what she had to say.

What inspired Mini Shopaholic?
Well, it's really the next episode in Becky's life, and ever since she got pregnant in Shopaholic and Baby, it's been on the horizon … she would have to deal with motherhood. I just thought, 'My God, she's had so many challenges in her life, but this is the biggest one by a long way.' She still has that same Becky energy and gusto, but maybe she doesn't get 'it' right every single time.
Why did you choose to make the recession a focal point of the book?
It's been so important for all of us: we've all lived through it, it's been on the front pages of the papers. And I think it would be kind of impossible to write a book about shopping in these times, and not reflect the economic climate.
Plus, I think it adds something to the whole shopping experience — you feel conflicted, you feel guilty, you feel like you shouldn't be shopping so much. I think that people don't stop wanting to shop just because of the recession, but they have to do it differently and think about it differently.
Did that angle make the book harder to write?
It made it more interesting, actually, because it's not as simple as Becky going shopping, it's Becky wanting to shop … but she can't! She tries to barter goods, she goes to the pound shop (dollar store) and she has a clothes audit of all her clothes. It heightens her problems. But it's nice to think that however bad things are, you can still find some comedy in the situation. That's what I like to do.
Are the characters based on anyone you've encountered in life?
There are definitely bits of me in Becky, although she has sort of turned into her own person over the years. And I think probably bits of my family and friends go into all the characters, but it's not deliberate: they feel like they are their own world, but I'm sure I'm drawing from friends all the time without even realizing it.
Luckily, all my children are boys! Minnie (Becky's daughter) is definitely fictional, but she feels very real, because I wanted to give her the traits of Becky and Luke, so she'd really feel like she's their daughter and you would recognize the parents in her. And I do feel that's the case — she's very much their progeny.
Did you always want Luke to be such a foil for Becky?
I did. He's quite stern and commanding and a successful businessman, but at the same time, he knows Becky and he loves her for what she is. So even when she's wild and crazy he'll forgive her, but he also tries to point her in the right direction.
They have a good banter — I find that a great thing to write, the sparks between them. She does something, and you're already thinking, 'What's Luke going to say?'
Do you think this book will resonate with moms, since it involves a child?
I think so. I think there's the 'mom' element to it, and there's the general shopping, throwing a party, shopping on a budget … so I think there's something in it for everybody. But I think that all the moms out there will nod, and remember going shopping with a toddler and the toddler tantrums in shops. Every single mom has been there!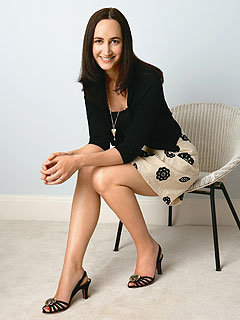 Courtesy Dial Press
Speaking of moms, how are your boys doing?
They're good! Three of them are way past the tantrum stage, and one hasn't reached it yet, so I'm in the clear for the moment. We have every age group represented, so it keeps us busy.
Rex has been such a little addition to the family, and even the big ones, they're really sweet with him, and they play with him. It's been really nice. I'm very happy with the four. I'm always one to never say never, but I'm pretty sure four is my limit.
What are they into these days?
They're kind of into surfing — we went surfing on our holiday, so they're into the sun-bleached hair. Unfortunately the winter is coming though, so that won't last. The 5-year-old is mad about Ben 10. I'd never heard of it until he announced he was Ben 10. We have to call him Ben 10, he wears Ben 10 T-shirts … it's just hilarious!
How do you balance your work with motherhood?
Well it's juggling, like any other working mother does. I treat writing like a job: what I don't do is try and fit it around the edges. I make it a priority. The children are at school while I'm writing my book, and then I'll stop in the afternoon, play with the baby, the kids come home from school. Then I might go back to writing in the evening after all is done.
I'm lucky, I work from home most of the time so that helps. And I couldn't do what I do without having a great husband who's really supportive and hands-on, and really pitches in with the children.
Since you are surrounded by so many males, is Shopaholic your escape?
It's an escape from real life and it's a very girly world, and it helps me indulge that side of me. In real life, I do my best, but my boys are never going to come shopping with me! Luckily I have two sisters, a niece, lots of girlfriends … so I have plenty of people to go shopping with!
When I meet readers, what's so great is that it feels like we have a friend in common. We all know Becky, and that's really fun! Somehow, it's not like meeting somebody for the first time … it's like meeting a friend of a friend. It's a wonderful feeling.
— Kate Hogan