Katherine Heigl Reports for Diaper Duty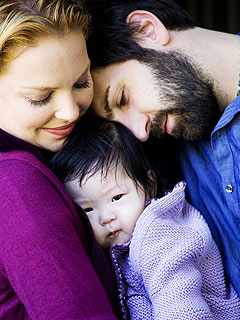 Cheyenne Ellis/AP
Paging Katherine Heigl for diaper duty!
The former Grey's Anatomy star and proud mama to daughter Naleigh is an expert when it comes to changing the dirty diapers.
"I'm a pro now. I can get it done real quick," Heigl told PEOPLE at the New York press conference of Life As We Know It on Saturday.
"I am very particular with these sorts of things. I want everyone — like my husband [Josh Kelley] and the nanny — to do it exactly the way I do it. Using just the right diaper cream because I swear that's what helps her, and the right kind of wipes and diapers — so I prefer to do it myself."
She adds: "It's very apparent that I'm kind of a control freak. So it's better if I do it myself!"

But Heigl's do-it-yourself mentality got her in deep doo-doo on her Sept. 24 flight from Los Angeles to New York.
"They didn't have those fold down tables to change her on and it's just a tiny little bathroom stall. I couldn't put her on the floor so I had to jam her head in the corner and lay her across the toilet and kneel below her. It was brutal," she recalls.
"The whole part of the plane smelled badly. In the beginning when they are little, it's not that bad. It's pretty tame. She's almost two, she really needs to get potty trained because this is grown-up kind of poop. Now I'm so committed to potty training. I'm going to make this happen!"
One parenting tip that Heigl, 31, learned from mom Nancy is to utilize white noise to help Naleigh to fall asleep.
"We use a big standing fan. We put it on high wattage to drown out everything," she explains. "Her bedroom is right over the kitchen and living room area so you can really hear us down there when we are up watching TV. My mother taught me that. She said she used to leave a vacuum running in the baby's room and it really works. There's something about white noise. I'm a big believer in it."
— Paul Chi