Stanley Tucci 'Laughs a Lot' with Three Kids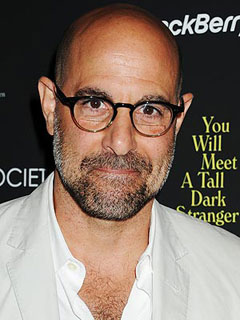 Jennifer Graylock/AP
He plays a laid-back parent in Easy A, but Stanley Tucci says there was no carryover effect at home with daughter Camilla, 8, and twins Isabel and Nicolo, 10.
"It would be great if I could be as relaxed as these people in the movie are," he muses to Reuters. "It'll never happen."
That's not to say there's much tension around the dinner table each night, however! Like his character Dill, Tucci says, "I do joke around with my kids … We laugh a lot."
The film is the first the actor has made since losing wife Kate to cancer in 2009.

Conceding that he "hadn't worked for a while," Tucci, 49, praised his producers for being "very kind" and condensing his shooting schedule into just three days. His next project — 2011's Captain America: The First Avenger — required a three week absence, however, which Tucci says "was a little hard."
"The kids were okay because it was summer," he continues. "They were having a great time. But I have to orchestrate things very carefully. I always did, but particularly now because I'm a single father, I can't go away for too long."
From the sound of things, Camilla, Isabel and Nicolo — whom Tucci describes as "really funny," "incredible" and "great kids" — are relatively disinterested in dad's successful career.
"My kids don't really like to watch me in movies," he said. "They just want me to be me."