Mayron's Goods: Gentle (and Safe!) Skincare for the Whole Family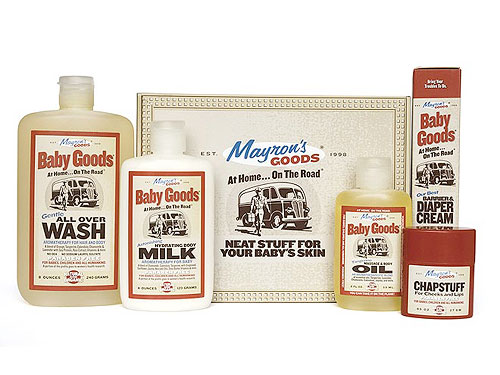 Courtesy of Mayron's Goods
Although best known for her Emmy-winning role on the '80s drama thirtysomething, Melanie Mayron is hardly one to rest on her laurels. The actress-director has since created another hit — Mayron's Goods, a complete line of all-natural skincare for babies and their parents!
Developed with the help of her dad, chemist David Mayron, the company was conceived through Melanie's search for a safer diaper cream for her own children. That desire became a reality when David created Mayron's Goods first barrier and diaper cream ($12), which is free of parabens, sodium lauryl sulfate or DEA while also loaded with essential oils, vitamins, anti-oxidants and healing ingredients like beeswax and shea butter.
But baby's bum isn't the sole focus of Mayron's Goods. The collection ($12 to $18) also includes all-natural hydrating body milk, body wash, massage oil and cheek and lip balm, and more. It's no wonder Kim Raver is a fan!
To shop the full line, go to Mayronsgoods.com.