Tips to Making School Lunch Weelicious from Catherine McCord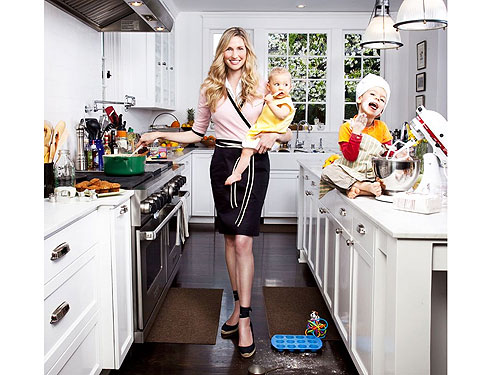 Gabriel Goldberg
Coming up with new and exciting school lunch ideas can be stressful, especially when you're already juggling your family's busy schedule. That's why we decided to tap Weelicious creator Catherine McCord for her top tips and tricks to create lunches that no kid would think of trading at the lunch table. Check them out:
Liven things up. If your kid's lunch has visual appeal, better the chances his lunch box will come home empty. Remember, we don't only eat with our mouths, but also with our eyes. If food is colorful, bright and exciting, it becomes much more enticing for little ones. Fruits and veggies are a great place to start adding the fun.
Try new shapes. Tired of fixing the same old white bread PB&J everyday? Before that sandwich goes in the lunch box, try putting it in a panini press or using a cookie cutter to cut it into a cool shape. Use a melon baller to treat your kid to bite-size balls of fruit. By changing the shape or form of fruits, vegetables, sandwiches and other staples, it keeps the visual interest exciting and your kids engaged with their food.

Take a dip. The more you can make lunch time another form of play time, the better. When you put a dip or sauce on the side for kids to use, those raw veggies that used to sit untouched in your child's lunch box will disappear in no time.
Ideas: Apples with peanut butter (sunflower butter is a great substitute for nut-free schools), baby carrots with a yogurt dip, chicken with BBQ Sauce, even pancakes or waffles with a fruit puree. Dips and sauces are a fun way to get kids involved with what they're eating.
Experiment with veggies. When it comes to vegetables, many moms consider their kids to be picky eaters. But don't give up just because your little one turns her nose up at broccoli. Sometimes all it takes is varying the way you prepare vegetables to change the way they look at them.
Instead of steaming cauliflower, try roasting some with lemon; give steamed carrots a sprinkle of mixed herb seasoning; experiment baking greens such kale for a crispy, potato chip-like effect or add some grilled zucchini to a quesadilla. They're all great ways to introduce (or reintroduce) kids to foods they may be reluctant to try. I find a change in preparation can alter a vegetables flavor in a way that may surprise your kids (and you!).
Go for a natural sweet. After you pack a healthy lunch box, don't forget a little treat for your wee one. It doesn't have to be loaded with sugar or additives to be sweet and delicious. Whether you pour granola or rice crispies on yogurt, bake peanut butter oatmeal cookies or simply put a cute sticker or note for your child inside their lunch box, the smallest touch goes a long way and let's your child know you're thinking about him!
Want more of Catherine's easy-to-follow and kid-friendly tips and recipes? Go to Weelicious.com or check out her daily Tweets (@Weelicious).
Also, below we have an exclusive video where Catherine — and her super cute daughter — show you how to make yummy strawberry pops.