Rod Stewart 'Cool' with Being an Older Dad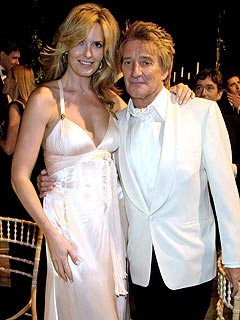 Dave M. Benett/Getty
With another baby on the way in March for Rod Stewart, becoming a father at the age of 65 may seem overwhelming. But for the singer who says he's "cool" with becoming a dad later in life, it's a "lovely" occasion.
Besides, he still knows how to rock.
"We just did 39 shows in Europe and they were some lively nights!" he says. And his iPod packs the latest hits by Arcade Fire and Kasabian.
But between finishing his upcoming album Fly Me to the Moon…The Great American Songbook Volume V — due out October 19 — and two-stepping in his living room with expectant wife Penny Lancaster, 39, Stewart has embraced the quiet times when he can brush up on the Scottish folk and old Celtic songs that he's planning to sing to the new baby — just as he did "to Alastair when he came out."

— Jessica Herndon