MasterChef Judge Graham Elliot Savors Fatherhood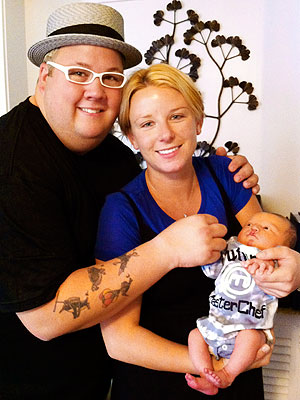 Courtesy Bowles Family
Graham Elliot couldn't be happier to have another mouth to feed — the award-winning Chicago chef and judge on FOX's MasterChef is a new dad.
"I am beyond excited!" Elliot tells PEOPLE of newborn Conrad Matthias Bowles, who arrived at 3:11 a.m. on Saturday, Sept. 18 weighing 8 lbs., 2 oz., and measuring 21″.
"[We were] a bit scared as the first ultrasound revealed that he was going to be born with a cleft lip and palate. Thankfully our prayers were heard as the cleft isn't nearly as bad as we thought it would or could be."
Conrad is the first child together for Elliot, 32, and wife Allie, the manager of the spa at Chicago's Peninsula Hotel; Elliot also has son Mylo, 3½, from a previous marriage.

"Mylo says he is super excited to have a little brother," Elliot says, "so long as he doesn't play with his toys!"
To celebrate the baby's arrival, Elliot's fellow MasterChef judge Gordon Ramsay sent balloons to the house and both Ramsay and Joe Bastianich reached out with personal congratulations. But the real celebration will be for Conrad when he can taste his father's creations.
"I can't wait to make him all sorts of amazing baby foods," Elliot admits. "As a fall baby, I'm expecting he'll start eating early next year, so that'll mean purees of celery root, winter squash and other organic goodies."
— Cynthia Wang