Car Seat Safety: What You Need to Know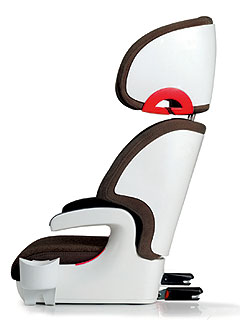 Courtesy of Clek
Have you checked your child's car seat lately?
There's never been a better time to do it — especially since we're in the midst of Child Passenger Safety Week, running through Sunday, Sept. 25.
According to Clek, a whopping 92 percent of car seats are improperly installed, a number that's both frightening and dangerous.
To get the scoop on proper car seat safety, we spoke with Clek founder and president Chris Lumley, who gave us his top tips on ensuring a smooth ride for your little ones:
Don't rush to "graduate" your child to the next seat. "For infants, rear-facing is safest," Lumley tells PEOPLE Moms & Babies.
"It's best to remain rear-facing to the weight and height limits of the car seats. In all cases, infants should be rear-facing until they are both 1 year old and 20 lbs., at the very minimum."
Keep your child in a booster seat until he or she is at least 4'9″. "Vehicles are not built for people shorter than 4 ft., 9 in.," he says.
Check everything twice. "When using a booster seat," Lumley says, "always be sure that the vehicle seat is upright and the child is not slouching. Check that the seatbelt is not twisted, and sits low and snuggly on the child's hips and across the midpoint of the chest as well as across the center of the shoulder." Make sure there isn't any slack in the seatbelt, either.
Secure booster and car seats, even when unoccupied. "This prevents them from becoming dangerous projectiles in the event of an accident," Lumley warns.
Never use a car seat if it's been in an accident. "If you're using a secondhand car seat, only use it if you are absolutely positive that it has never been involved in a crash," he warns. "Accidents may cause damage that you cannot see."
If you're unsure, ask. "There are thousands of certified passenger safety technicians that can help you properly install your seat," he shares. You can find more information at Cert.Safekids.org.