Mark McGrath's Blog: Meet Me and My Twins!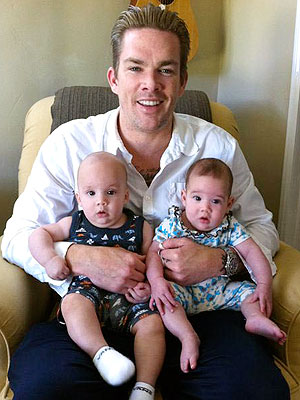 Mark, Lydon and Hartley – Courtesy Carin Kingsland
PEOPLE Moms & Babies is happy to introduce our newest celebrity blogger — Mark McGrath!
The Sugar Ray frontman is proud papa to 4½-month-old twins Lydon Edward and Hartley Grace, his children with fiancée Carin Kingsland, as well as the new host of Don't Forget the Lyrics!, airing weekdays on VH1 and in syndication.
In his first blog, McGrath, 42, introduces us to his family and fills us in on what he thinks of fatherhood so far.
Click below to read!

Hey, what's up everybody?! I'm Mark McGrath; a first-time dad to 4½-month-old (already growing up so fast) twins Lydon Edward and Hartley Grace. On April 29th — the best day of my life — my world changed forever with the birth of our children. This has been such a surreal experience and I think I'm still in shock that I am a father … times two!
My fiancée Carin and I tried for about a year and half to have a baby and when the old conventional way didn't work out (not without Herculean efforts!) we tried IVF and got pregnant on the first try — hence the twins. I find it strange that many high-profile couples are reluctant to say they used IVF, but to each their own I guess. For us, it was a blessing and nothing short of a miracle!
Since before the twins were born, Carin was always reading PEOPLE.com and showing me the baby site. She was very strategic with me in regards to expressing her enthusiasm for getting pregnant, so it's an honor to be the first father to blog on here. Gotta say it's kinda rad! I've never blogged before so bear with me if I ramble on too much. Can't help it, I am a proud daddy and excited to share my experience with you guys.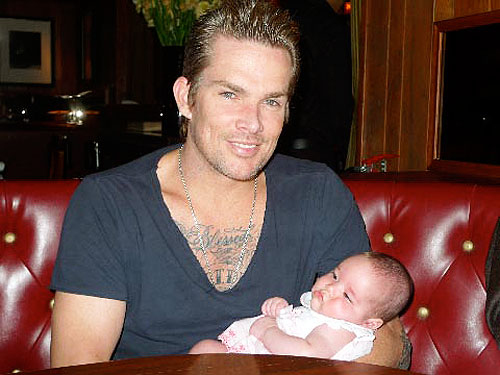 Mark and Hartley hanging out at A Restaurant in Newport Beach, Calif. – Courtesy Carin Kingsland
A lot has happen in the past four months. I've always heard other parents say to enjoy every minute of it because it flies by so fast, but I had no idea that it would be this fast. I'm already missing the swaddling as I was becoming quite proficient at it. In fact, I would give those lovely nurses at Cedars-Sinai a run for their money!
We already had to lower Lydon's crib down a notch since he is rolling over. (Being the handyman that I am, I was quite impressed with Carin when she figured out how to do it herself!) We would come in the room and there Lydon would be, peeking over the rails. It was so cute! Never knew I would use the word 'cute' so much … please don't tell the band.
Hartley is a calm and happy baby — always smiling. She sleeps through anything, and melts my heart when she smiles from her soul. Lydon, on the other hand, is a bit more fussy. He needs to be constantly entertained. And if he doesn't get what he wants he belts out these heavy metal screams (Adam Lambert, eat your heart out!).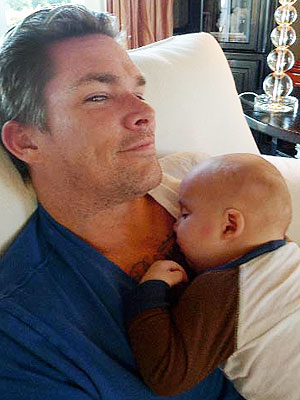 Lydon chillin' on dad's chest – Courtesy Carin Kingsland
We had to let him cry it out the other night and poor Carin was crying too … in another room. As for me, I just put on my headphones and let little Ly learn one of life's great lessons. I think the Stones said it best: "You can't always get, whatcha want…"
We are adjusting quite well and have figured out our nighttime rhythm. Carin does the night shift — did I mention she is an angel from above? — until about 5 a.m. and I do the morning shift while she gets to sleep in. This allows me to spend quality time with them. I can't think of a better way to start my day then to the coos and laughter of twin babies with full diapers!
— Mark McGrath
A warm welcome to Mark! What questions do you have for him? What topics would you like to hear from him about in the future?