Lily Allen 'Really Excited' to Finally Look Pregnant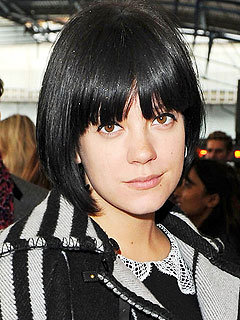 Nick Sadler/Startraks
It's out with the old and in with the new for Lily Allen. And the singer — who's expecting her first child with Sam Cooper this winter — couldn't be happier with her lifestyle changes.
"I'm enjoying procreating," Allen, 25, tells The Mirror. "I'm not missing smoking, drinking and going out. It's made me realize a lot about some people I used to hang out with."
In fact, adds the expectant mama, impending motherhood has left her wincing at her past.
"I still have to be around some of them when they're drunk and I'm like, 'Is that what we're like?' Being sober has opened my eyes a lot," she reveals, noting the pregnancy has had an equally profound effect on her body image.

"My boobs are incredible. I'm a 34D now. I've never had that size before," she laughs. "I'm actually really excited now I actually look pregnant. My body's changing all the time and I've got to just embrace it."
And with the changes comes a new wardrobe. "I've been wearing sexy maternity tights. I'm so glamorous it's unreal!" Allen jokes.
Noting that "being a mother is something I've wanted for a very long time," Allen reveals she plans to enjoy each second of her life with baby — and let nature work out the rest.
"I won't be one of those celebrities that pop a baby out and four weeks later I'm back to normal," she states. "I'll disappear into my country house … and be hidden from view for as long as I can."
— Anya Leon