Molly Ringwald Has a Busy, Babbling Full House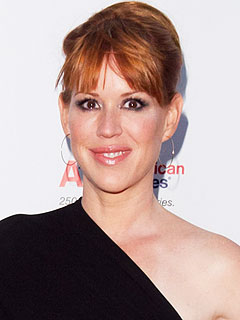 Erik Pendzich/Rex
It's been 25 years since she served detention with The Breakfast Club, but Molly Ringwald is still a busy queen bee.
She stays active keeping up with her 14-month-old twins Adele Georgiana and Roman Stylianos, who are now "walking and running around. They're sort of babbling to each other," Ringwald, 42, told PEOPLE at the Film Society of Lincoln Center's 25th anniversary screening of The Breakfast Club in honor of John Hughes. "They're adorable."
Big sister Mathilda Ereni, 6½, helps take care of the twins, too. "She's a really awesome big sister," Ringwald says. "And we just got a puppy, as if life wasn't complicated enough."

With a German Shepherd-Lab mix and three children, Ringwald has her hands full. But she's got help in her husband, writer Panio Gianopoulos, who was spotted grabbing popcorn and a drink for Ringwald before the film.
Making it in Hollywood with career and family "takes careful planning," Ringwald says. "It really helps to have a very supportive partner and a lot of flexibility."
Someday, Ringwald hopes her kids watch her in classics like The Breakfast Club.
"I want them to come to it organically," she says. "I have a fantasy of watching it with Mathilda. But in reality, it probably would be better if she just went to a slumber party and watched it with her friends, you know, like every other kid."
— Asher Fogle