Leapster Explorer: Cool, New Handheld for Kids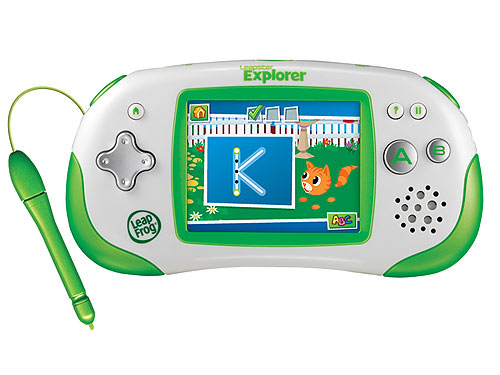 Courtesy of Leapster
Keep your child's brain cells charged this fall with Leapfrog's new handheld Leapster Explorer ($69). Not only does it offer fun, engaging learning games, but it also features LeapFrog's biggest screen yet — complete with Flash and 3D graphics.
Created for kids aged 4 to 9, the touchscreen device also comes with an attached stylus (so your little ones won't lose it), as well as, access to a library of more than 40 games and activities, featuring popular characters from Toy Story, Disney Princesses, The Penguins of Madagascar, Dora the Explorer, and more.
We love that you can personalize your child's learning experience and customize content. Each time your child plays skill levels are automatically adjusted so subjects are increasingly challenging. We do wish it came with more pre-loaded content though.
Connecting to LeapWorld, the online learning site, to download games and activities was a cinch. Parents can always keep track of what their kids are playing and learning through the LeapFrog Learning Path.
For more fun, add the click-on camera accessory which turns the Explorer into a camera and video recorder. Through Sept. 30, you can also get free shipping and a complimentary Leaplet Download Card Pack (to download games or ebooks) when you order your device at Leapfrog.com.
— Nancy Horn