Get Ready to Whip Your Hair! Willow Smith Debuts New Video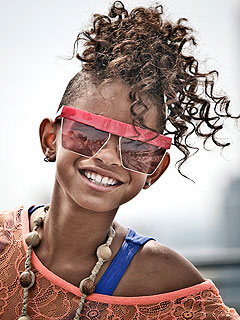 Courtesy of RocNation
Watch out Rihanna! There's a new, budding fashionista/rock star hot on your heels.
Just a couple months shy of her 10th birthday, Willow Smith has debuted her first single, "Whip My Hair," after being signed to rapper Jay-Z's label, Roc Nation — all in one week.
"After meeting with several record companies, it was clear Jay-Z and the Roc Nation staff were the unquestionable choice," shared mom Jada Pinkett-Smith.
"Their passion for Willow combined with their boundless vision and artistic integrity made Roc Nation the perfect home for our little girl."
From her wild outfits to her ever-changing hair, it's clear she has her stage-ready style down pat.
But while her song is actually catchy, we may need a little longer to get used to the idea of little Willow as a pop star.
TELL US: What do you think of her new career?