Michael Douglas Didn't Hide Cancer Diagnosis from Kids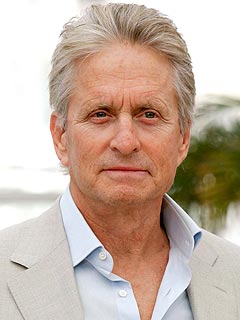 Kurt Krieger/AllStar/Globe
When it came to sharing the news of his stage four throat cancer diagnosis with his two youngest children — Dylan Michael, 10, and Carys Zeta, 7 — Michael Douglas felt honesty was the best policy.
"I don't know what else you would do. It is what it is," the Wall Street: Money Never Sleeps star tells USA Today.
According to the veteran actor, both kids are taking the news in stride — and have even managed to see the positive amidst their father's grim news.
"They're happy I can't talk that much. Sometimes you say, 'Daddy's tired.' Okay, great," Douglas laughs.
"The kids, yeah, they've been fine. I've taken them down to the hospital and shown them the whole radiology thing. They've watched me actually get zapped."

It's no surprise both Douglas, 65, and his wife Catherine Zeta-Jones chose to include their children; The couple took the same approach when it came to explaining older brother Cameron's run-in with the law and his subsequent five-year prison sentence.
"They really missed him and he missed them," Douglas shares, adding that Dylan and Carys have visited Cameron in prison.
"He's fine. He's made a couple of big, big mistakes in his life. He's paid the price. On the other side of it, he's sober," the actor explains. "I really, really enjoy getting back to know him. I'm really hopeful for his future. He's a wonderful kid. It's heartbreaking that we lost as many years as we did."
— Anya Leon