Spotted: Jennifer Garner's Shady Lady – Seraphina!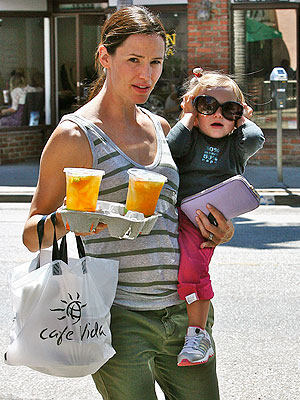 LCP/AKMs
Her future's so bright, she's gotta wear shades!
While daughter Seraphina Rose Elizabeth, 20 months, gives Mom's sunglasses a try, Jennifer Garner balances drinks and her cute tot Tuesday after lunching in Pacific Palisades, Calif.
The actress and her daughters — including Violet Anne, 4½ — keep husband Ben Affleck in line, he jokingly tells Ellen DeGeneres.
"I have three women in the house. … I get to be wrong three times a day," he laughs. "I am madly in love — I have the best family."
RELATED: How Ben Affleck Handles Being Lowest on the Food Chain at Home