Spotted: Lisa Loeb and Lyla's Farmer's Market Fun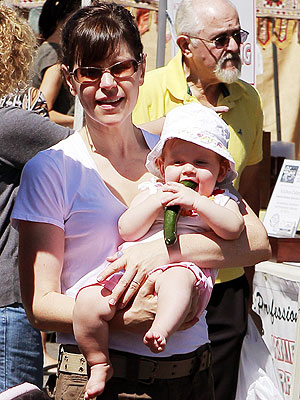 Fame
Yum!
Baby Lyla Rose cuts her teeth on some veggies while at the farmer's market with Lisa Loeb and dad Roey Hershkovitz on Sunday in Santa Monica, Calif.
Lyla, 9 months, is the only child for the singer/songwriter and her husband, a music production supervisor.
"We're trying to get her to sleep on her own instead of getting her to fall asleep before we put her down," Loeb, 42, confessed recently.
"Sometimes this whole sleep thing is like a hazing ritual for new parents. And the thing is, no one warns you about it. It's crazy!"
RELATED: Lisa Loeb: A Fan of the Baby Belly Rub!