Nina Garcia Dishes on Her Fashion-Forward Maternity Style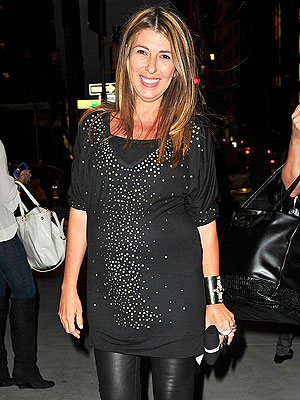 Splash News Online
No muumuus and sweats for this chic mom-to-be!
The Project Runway judge and Marie Claire fashion director prefers leather leggings and body-hugging tunics instead.
"Comfort is an issue when you're expecting, but I think there are a lot of options out there," shared Nina Garcia at good pal Heidi Klum's Lavish and Loved fall collection preview during New York's Fashion Night Out on Sept. 10.
"Even though I'm pregnant, I feel very comfortable and easy in pants. Also, drapey T-shirts and longer silhouettes really work for me."
Garcia — who was wearing head-to-toe Lavish — also revealed her thoughts on working with singer (and designer!) Jessica Simpson during the taping of the show's runway finale.
"She was great, she's so lovely. I've actually worked with her before because we've done many covers together," Garcia said. "She was a little apprehensive about what she was going to say, but she made some really good points and gave the designers a lot of constructive criticism."
So how is Garcia handling pregnancy the second time around?
"I'm feeling okay — I'm only seven months! Ask me in a month."
— Shanelle Rein-Olowokere with reporting by Zara Kessler