Minnie Driver Says Henry's a Big Talker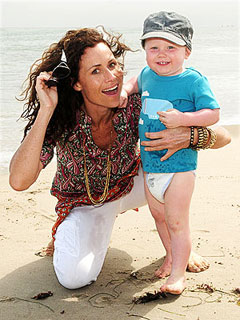 Michael Williams/Startraks
As a first time mom, Minnie Driver is experiencing all the emotions that come along in being a parent to son Henry Story.
"He's doing fantastic!" Driver, 40, told PEOPLE at the Toronto International Film Festival premiere of Conviction. "He turned two last Sunday and he's starting to talk."
His love of socializing may have been inherited from Driver herself.
"We just had a long conversation on the phone before I came here to the premiere and he just loves to talk. He doesn't shut up like me," she says proudly.
"His first word was 'car'. I don't know where that came from. I have to ask him when he can form full sentences."

In the legal drama Conviction, hitting in theaters Oct. 15, Driver stars opposite Hilary Swank in the real-life story of Betty Ann Waters, a single mother of two who put herself through law school in order to exonerate her wrongly-convicted brother from prison.
When asked what she'd be willing to do for the people she loved in her life, Driver admits her maternal instincts would kick into high gear if anything happened to her son.
"I'd die for him" she says. "I'd jump in front of car or whatever for him. I would understand that feeling with my brothers and sisters. I mean categorically with my son but with my family I would do whatever it takes. I completely understand that strong, fierce love for another."
— Paul Chi