Katie Holmes: Suri 'Is a Light' on Set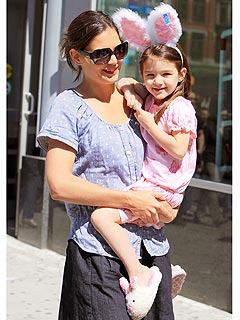 Jackson Lee/Splash News Online
A film set might be Katie Holmes' office, but when daughter Suri is nearby it hardly seems like work.
"It's really fun to share making a movie with her," the Romantics star, 31, tells Access Hollywood. "She brings so much to it."
Because she is homeschooled, Suri, 4, is always able to travel with mom or dad Tom Cruise and at the end of a long day, Holmes says there is nothing better than being reunited with her daughter.
"She is such a light that you instantly feel better," Holmes explains. "When I'm working, I feel like, 'Wow, this is so magical I get to share this with you, and you give me so much.' It's really fun."

Her enthusiasm is often shared by Holmes' cast mates, including the child actors in her upcoming History Channel miniseries The Kennedys.
"We've had a lot of fun with all of the kids on set," she explains. "Everyone brings their kids and we do play dates there and paint pottery. There's always like a million things going on at once and you just do it."