Review: Mountain Buggy Terrain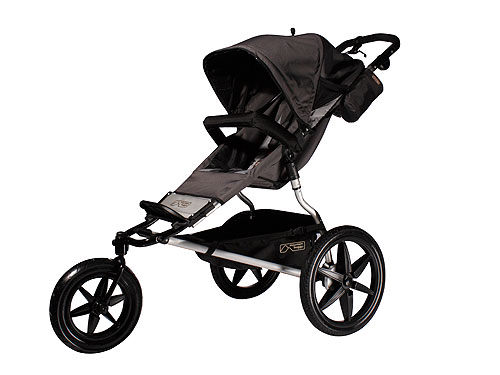 Courtesy of Mountain Buggy
When it comes to jogging strollers pulling double duty — switching between a fixed-wheel and a swivel-wheel — many talk the talk, but few can walk (or run!) the walk. The Mountain Buggy Terrain ($550) bucks that trend, delivering in both modes where many before have disappointed.
Things We Like:
Right out of the box, the Terrain works to make life easier. Simply line up the wheels, secure them in place with a bolt, attach the included bumper bar and you're off!
The three-position front wheel is a dream come true. Lock it forward for maximum control at high speeds or for longer runs. Lock it back for uneven terrain or power walking along straight stretches or leave it unlocked for full swivel maneuverability at the mall.
Jogging with the Terrain at a moderate clip was about as effortless as it could be (given the 35-pound passenger hitching a ride!) and the stroller felt solid and stable in our hands. Speaking of the latter, the handbrake offers added security and a wrist strap helps guard against runaway strollers.
The suspension system is also top-notch, offering moms and dads a smooth push — something to appreciate at the end of a long run. Plus, the sun hood is sizable, extending down to  baby's lap for complete shade when needed, and a peek-a-boo window is a nice touch.
Storage is abundant. While you won't often need (or want!) to fill the basket for a run, you'll appreciate its size and 11-pound weight capacity when strolling in swivel mode. And the Terrain may not offer a snack tray, but it more than makes up for it with two in-seat pockets for food baggies and sippy cups.
Also, an adapter snaps onto the frame for carrycot or infant carseat use.
Things We Didn't Like:
At 29 pounds, the Terrain isn't the easiest stroller to transport or load into a sedan. The weight and size is in line with most true joggers, however, which normally require a heavier frame for added stability.
Moms & Babies Rating:
Avid runners will love the Terrain, for it eliminates the need to purchase a second stroller for non-jogging use.