Milla Jovovich Says Baby Weight Didn't 'Slip Off'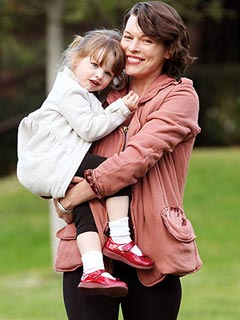 GSI Media
In a new interview with the Chicago Sun-Times, Milla Jovovich notes that "being a mother changes everything" — including your body!
The Resident Evil: Afterlife star, 34, gained nearly 70 pounds while pregnant with daughter Ever Gabo, 2½, and took a slow-and-steady approach to losing the baby weight, admitting "it took a year to put on that weight and a year to take it off."
"Basically, I lost 10 pounds a month for four months," she explains. "Since I was around 200 pounds when I gave birth, losing 40 pounds was just a drop in the ocean."

The remaining weight was not so easily lost. Jovovich says she knew instinctively she had to be disciplined or accept that "this was the new me."
"Basically, I worked out a few times a week and did the 5 Factor Diet," she continues. "I put away the cake and pizza. But the weight didn't slip off. It took me another eight months to get it all off."
Her newfound curves weren't necessarily unwelcome, however.
"The rule when you get older, it really is a choice between your ass and your face," she says. "It's a little cellulite on the booty or you look like a hag. As you get older, you need a little weight on your face to look better and younger."
Adding that she didn't want to become overly toned, Jovovich points out that some people can never be pleased. "There were some guys who were rude and told me, 'Hey, your arms don't look as toned now,'" she recalls. "I'm like, 'Whatever.'"
Life as a mom puts everything — including body image — in perspective, Jovovich says. "Your first concern is your child over your own life, career or all your insecurities," she points out. "All of that is in the distance."
"What could be worse than having your baby get sick? There is nothing worse than worrying about her if she falls. As long as she's okay then everything else in my life is so easy," Jovovich adds.