More Kids for Katie Holmes? 'Maybe in a Couple of Years'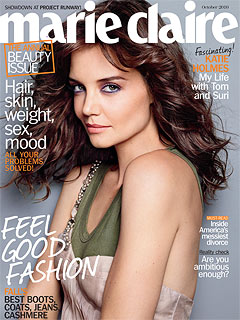 Courtesy Marie Claire
Katie Holmes says growing up the youngest of five children suited her just fine.
"My closest sister is five years older than me, and the next one is nine years ahead of me, so I was a bit of an only child, and I liked it," the Romantics star confesses in the October issue of Marie Claire.
"I liked having all of my mom's attention, and sometimes I think I still do."
That's precisely why Holmes, 31, is in no hurry to make daughter Suri, 4, a big sister.
"Maybe in a couple of years, but right now I want to make sure I'm really there for [her]," she explains.

For now Holmes says that she and husband Tom Cruise are dedicated to raising their daughter with as much normalcy as possible, including a daily routine "that never changes." Although she admits the couple "travel a lot," Holmes insists that every day "we wake up, and we do the same thing."
"[Suri] does her chores," she continues. "I think it's very important. If she doesn't get her chores done, I notice she's not really herself."
To that end, Holmes reveals that Suri is responsible for making her own bed, taking her dishes to the sink, putting clothes in the laundry and more — but it's not all work and no play for mother and daughter!
"I try to do what my mom did for me … just spending time with her, making doll clothes and planting in the garden," Holmes adds. "When Suri comes to the set, we have art projects, and I just try to keep her busy and inspired."